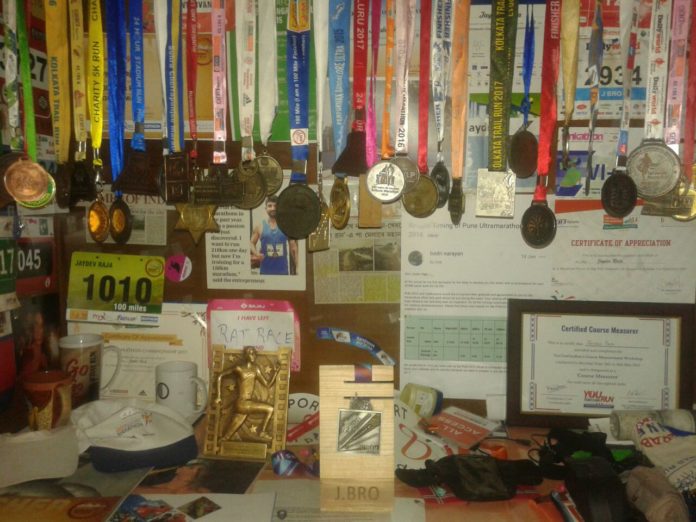 Kolkata was not really known as a destination for running in Kolkata. But that changed after 2015 when running clubs came into the City Of Joy. It started with Kolkata Running Squad in August and then Kolkata Ultra followed suit. Today there are a lot more running clubs which has prompted a growing running culture and monthly collaboration runs hosted by every group in rotation which builds camaraderie amongst runners across the length and breadth of the city.
Who knew one day there would be an umbrella organization called 'Kolkata Runners' which consisted of all groups and there would even be one common t-shirt. The strength and camaraderie of 'Kolkata Runners' reflected when close to 60 runners went to Hyderabad to run the marathon on the 20th of August.
For someone from Delhi, Mumbai and Bangalore where the running community is much bigger, Kolkata now comes on the map. It encourages people to come out and run and aim at participating in marathons. For someone who never ran even 1km, running 10km or 21km is a huge achievement. Some even go onto to do full marathons. Sometimes people ask, "Why this fuss suddenly with running?" Well I will just put it as, something that is new is always cool. But then as long as it is about fitness, it is cool.
For many of us, like me, running has changed my outlook towards life. I am a much more confident person at the workplace too. I take pride in the fact that I wake up early on a work day and go running and the other days I go gymming, swimming, do yoga, staircase climbing and cycling too. Some people ask me, how I manage to do all this more so with my work as a journalist with a news channel. Well, it's all about balancing the different tasks during the day. We all have 24 hours in the day and it is about what we choose to do with those 24 hours. I have even run when I travel to different cities despite my hectic schedule.
The thrill and mental strength that outdoor sports require transforms a person to be in the moment and achieve what they sometimes thought was impossible. The same goes for me too. I was into gymming for 7 years and yoga for 2 years along with that. But running transformed me when I tested my endurance and mental strength going beyond my comfort zone. They say a marathon symbolizes life. I think what they say is true. Because in a marathon like life, you can only go ahead and can't turn back. When I ran my first half marathon in August 2015, it was a sense of achievement crossing the finish line and getting my first finisher's trophy. From then on, each time I cross the finishing line, it is an emotional moment knowing that I have achieved something big yet again.
That is why like me, many others run. Not because anyone asked them to do so necessarily, but because we all want to do it for ourselves. I keep getting asked why I run when I have to pay to run marathons, more so when I go for outstation marathons. The only answer I have is, that sometimes it is much more than money and instead about the passion and sense of satisfaction that transcends the moment of shelling out money to run an event. It is about those days and months of training that culminate into race day where I test my limit and know where I stand. Fitness is more than just a term. It is about the lifestyle changes we make and I definitely have come a long way with no regrets as I lead a healthier life and yet don't compromise on my fun.
It is about the balance, the thrill that makes me want to run more and explore the world with my running shoes. So again if people ask me "Why the fuss suddenly about running in Kolkata?", I will just say, thank God for the fuss!