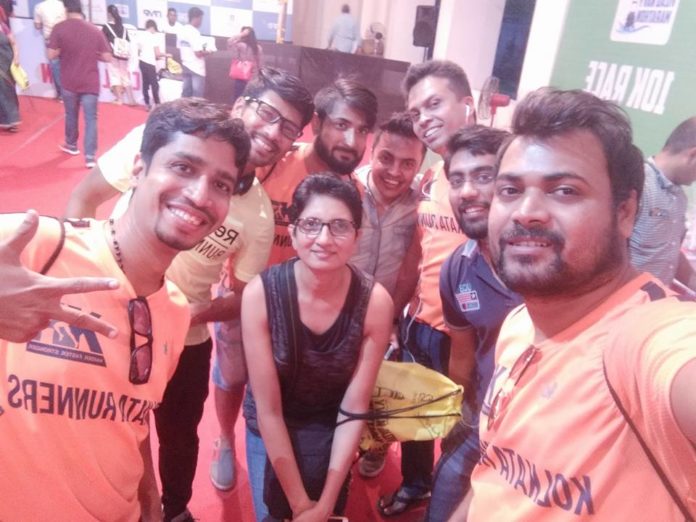 "Its a journey from Me to we and from Us to 80 min bus"
I always try to put up the thinking shoe of a runner and find whats going on in the mind that inspires the body to achieve what we believe and aspire for on the tracks that define our destination, if not destiny. But when some people rise above the running tracks to drive the gladiators of running world to achieve what seems a distant dream , a pacer is born.
I have been a runner and blogger who delves into the minds of fellow runners and bring out their journey to the finishing line,but its a rare honor to have the supergirl relive the story of courage,determination and a photo finish run right from the heart.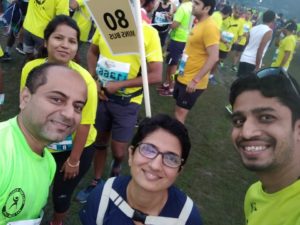 Susmita Jha is an inspirational running enthusiasts for everyone who aspires to inspire generations of runner with the grit and glory that shines as the finishing medal of honor.She has come a long way from being a Techie Nerd to the flying bird who has captured the imagination of all the woman who want to come out of the kitchen and the office cubicle and be the change.
Presenting the Techie nerd who is now the flying bird share her moment of glory "Pacing the City of Joy"
"It's My 1st pacing experience (10km bus @80mins) in Procam TSK25 Kolkata Internatioanl 2017 in the city of Joy and Everyone is asking me, how it was being a pacer – and my answer is, its all about the shift of focus from "Me" to "Us" !
My strategy was to connect with my co runners and that's what I did. Myriad of runner mostly first timers/ non runner took my bus. Whether it was chatter and run or someone engrossed in thoughts listening to music… a pat on back never loses it's magic.
Telling someone who is following you that you would be happy if you can follow that person and see the motivated runner speed up is pacer's gratification!
Tired faces cheering up and grimace replacing smile made me content.. Yes, you can do it, and WE will do it TOGETHER were the Magic words !!"
"I remembered what all has worked for me in my running journey. These pearls of wisdom I applied on those who had put their trust in Me.. and believe me it was magical beyond the common wisdom and my mind went on asking myself myriad questions which was beyond what meets the eye."
"What was it that brought a smile on my face when I was grimacing in pain "
"What added the zing to my pace when my legs had revolted against me "
"Was it a pat on my back or some one shouting my name telling me that I am doing good n to keep going !(most of the customized running Tee have names printed)"
"Was it reading out loud the slogans on the back of their Tee and reinstating their reason for being there and prove what they believe in…"
"Was is chatting with my running pals and loosing track of the distance to cover, which seemed surmountable in the beginning.."
"Was it about spotting a fellow runner and aiming to cross him/ her and to focus on next target !!"
"Was it holding hands of fellow runners and pulling them to help them move few mts faster.."
or, Asking them to raise their heads and look around and not to miss the beauty of the treasured Kolkata heritage route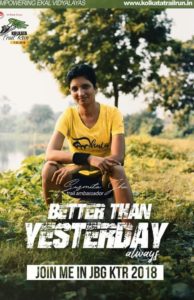 "An extended hand serving dry food bytes as energy fuel on the way, or offering water when throat seemed to parch…"
"keeping few pain relief tubes and sprays handy if they need before the next medical aid ( as this had come to my rescue during few initial runs of mine).Running backward remembering my running buddies doing this for me sometimes when I feel left behind..
Shaked few legs and jumped on peppy tracks being played by the Live performers enroute while waiting for few bus inmates to catch up with the rest .."
"Yes I did this all as a pacer to motivate those who had put their trust in me.
Most treasured will be the pic at the historical Victoria Memorial, which I could never take in any event as a Runner…"
"Who says I missed my running and buddies while I ran as a pacer, I carried them in my memories and shared all my running experiences enroute with my fellow runners and yes having a great buddy as a co-pacer was icing on the cake "
"I agree that I sacrificed my Run but in the end, it was worth it..
It felt good when your fellow passengers mentioned that they Happy to onboard your bus and were looking forward to it since long !!"
"The Hugs and Thanks in end from those who had shown trust in me, outweighed the happiness of reaching the finish line as alone as a runner.
Yes who told pacers don't need motivation "
"hmm…and did I miss on Congratulations ? of course Not..they were more in numbers.A pacer is an extension of a Runner !! so congratulations of course were manifolds !"
"Thanks to Procam team, Jayanti, Kevin and DJ for all their supposrt and most of all, Jbro for referring me, which initatiated this journey !"
"I know now, PACING is- No more "Me", it's about "Us"!! and I look forward to many more such experiences, as i relieve my dream of " Pacing the city of Joy"