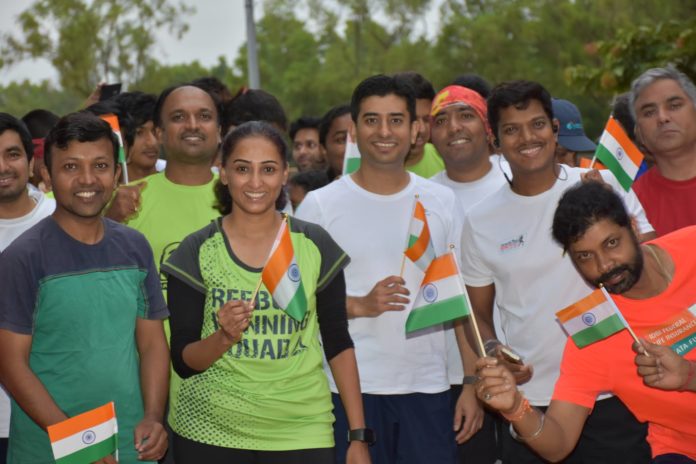 Everyone wants to enjoy freedom and there is nothing better than celebrating it with running and that too celebrating our independence day with our National flag and this is a dream come true for many of us.
Every sportsman dreams of making the country proud and celebrate it holding the National Flag and all who embrace sports for even good health are themselves champions who have overcome obstacles to follow this passion and we had a great opportunity at the GKVK ground by Reebok Running Squad where all the runners turned up in tricolor dress and sprinted to celebrate the freedom of our country and ourselves holding the Tricolor Flag proudly .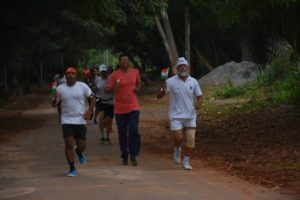 It was a beautifully organised run by RRS GKVK which started from the Gate of the indoor stadium covering a distance of approximately 8kms around the GKVK campus holding the tricolor and the swarm of runners in white,green and saffron resemembled the unity and passion of the runners with some chanting Vande Mataram proudly leaping ahead with a beautiful smile and pride on their faces.As we know Running is not only good for health but brings out lot of moments that was beautifully captured by our champion runner and a great Photographer Roopa Gowda or Roops as is fondly named by fellow runners. She sacrifices her run for capturing the moments in camera that brings smiles while we clock miles.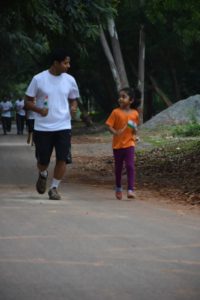 Look at the father daughter bonding over the run that came out so beautifully and how a caring father matched steps with the little angel who was probably having her first serious run .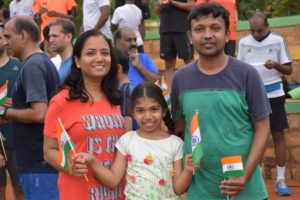 or this beautiful family moment captured on a lazy sunday which brings a sense of togetherness and family time with running for fun and wearing the pride of Indian Independence.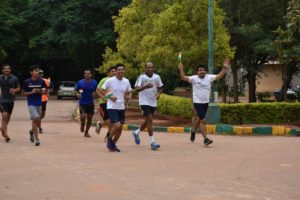 Or a gang cheering away in happiness and fun enjoying the very moment of pride and fun with the run along with the likes of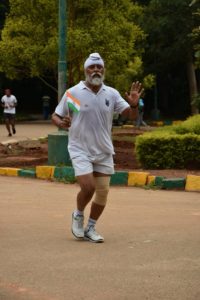 a veteran Retired Defence officer who has served the country in the good and bad times and pridely wore the national flag on his attire and motivated many to run for the country's independence day celebration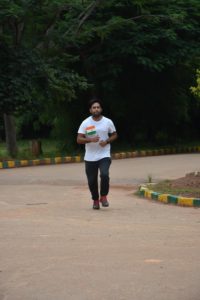 or someone who tried his first run to freedom from stress and sedentary lifestyles it was an inspiring to see so many people running for their own reasons combined with the pride of independednce.
And it would be incomplete not to introduce the runner who sacrificed her run for capturing these beautiful moments of pride and fun ,introducing with a round of applause " Roops" thanks for the beautiful capture.


Our official or unofficial photo expert Roopa .
Reebok Running Squad conducts free Training for aspiring and veteran runners at GKVK campus every weekend Saturday and Sunday 6.00 AM onwards and here is your chance to come join us and reclaim your life.
Photo Credits : Roopa Gowda/Reebok Running Squad GKVK