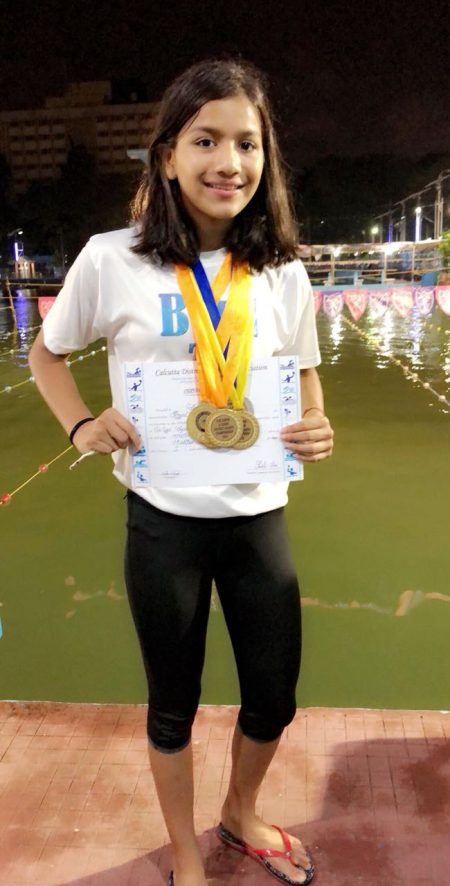 As a child we have read a lot of stories which have fascinated us to the core and have influenced life decisions or we still think of becoming one of those charecters in real life, for me one of those was "the little Mermaid" but the irony of life is i didn't become one till now. But there is someone i came across who reminded me of it and i was so thrilled to cover her journey of becoming the little Mermaid.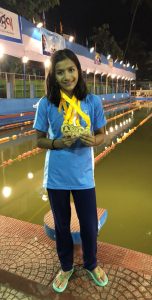 Please welcome the little mermaid of the story "Suhani Rungta" who is accomplishing more medals and accolades than the real Little Mermaid would have if she comes out of fiction, and why shouldn't she when she is supported by parents who take keen interest in sports themselves,as her mother Jyoti is an avid runner and part of Kolkata's Running Pride "Kolkata Road runners" and we are Glad that she agreed to Narrate our Little Mermaid's Story which is both fascinating and real life inspiration not only to the kids but the parents so that they don't push the child to fulfill their lost dreams but the one's that the child sees as his/her future. Dont differentiate between the son and the Daughter as they shine equally in the sky called life given the right opputunities.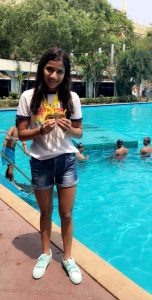 As per my conversation with Jyoti ,Suhani Rungta 'the Little Mermaid" who is 14 years old is currently studying in class X of La Martiniere for Girls and She is going to represent West Bengal at the National Aquatic Championship to be held at Pune from the 24th- 29th June.She is an all rounder who has an interest in basketball,running and most of it in swimming.Suhani is a sprinter and started her swimming as a breaststroker, but now she does all strokes and of them all butterfly is her favourite swimmimg form.she is a fun loving girl and cooking is the stress buster for her mother.This is not all as She is a very good runner and has completed 5km at the CSC (calcutta swimmimg club " run in just 24 minutes and placed 1st in her age category and She is the fastest runner in her school for 75m , 120m 200m.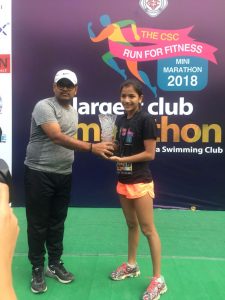 She started her journey in swimming at the age of 5 and the sport got her keen interest by the time she turned 10, while taking part in the inter house swimming meet in her school.She lacked proper training but she competed with trained swimmers,watching her do it so well her parents decided to send her for professional training.But it took them two years to get the membership of Calcutta Swimming Club and then there was no looking back ,it was 2016 she started her training under a professional coach and after proper training for a year, she embarked on a new journey as she got an event at the District Swimming Competition in 2017 and was placed 2nd but could not qualify for State level championship.At the club TICCT meet ,i.e. between the Tollygunge Club , Saturday Club and the Calcutta Club while representing the Calcutta Swimming Club, she broke 8 records and got the championship trophy which she followed up with School District Swimming championships and got 3 events.She has won 1 gold and 2 silvers and got qualified for state level school championships.But it did not turn out well for her as for her immense pressure and nervousness she did not participate in the main event which was breaststroke and was very disheartened but she made up for that on the very next day,when she managed to get bronze in the 200m individual category.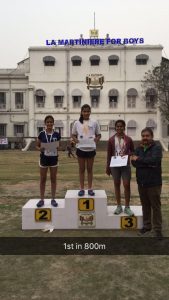 In November 2017, she went to Mysore to take part in the National inter-club meet and won 2 bronze medals in the relays , and this was when she stretched her goals and started taking more interest in butterfly and freestyle as well.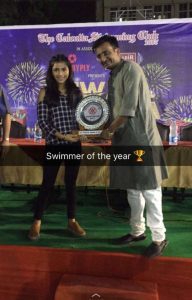 She worked hard throughout the year, going for all the 10 to 11 training sessions(every Morning and Evening) in a week and in her next event at "The Bengal district championship "which was held at the College Square from the 17th – 20th May 2018 – she participated in 5 competitive races and won 4 gold medals and 1 silver medal and got qualified for all 5 events in State level.The State Swimming Championship took place from the 1st – 3rd June at Konnagar,Hooghly district where she maintained her winning streak by winning 4 gold medals and a silver medal again.She is taking part in her 1st nationals at Pune which seems to be really tough as she is in Group 1 in her first year itself but nothing can stop "the little mermaid" to fulfill her dreams and conquering the waves with her strokes.As i say the future is bright when you get your stroke right. Hail the little mermaid.