What makes me as runner in Kolkata get excited about travelling for an outstation marathon? This time for the Hyderabad full marathon on the 20th of August. I have been for outstation marathons before like Cherrapunji and Mumbai and done full marathons, but this time what I am happy about is that, I have managed to get together many enthusiasts from Kolkata, some new runners to participate in an outstation marathon, that too the toughest city marathon as is known to be because of the uphill roads and flyovers. Many of these runners have started running at the end of 2016 and some in 2017. It is the spirit of the runners that is inspiring and the enthusiasm with which some have said, lets go give it a shot, makes me believe that I in some way, have done something good for the running community. It all started with an idea, then the registrations before the logistics and a concrete plan paved the way forward for D-Day.
Whether it is initiating the idea in April this year, or starting a Hyderabad Marathon whatsapp group for logistics and coordination, it definitely is a step forward to coming together for an event that will only make runners more confident and know where they stand. Many might never have taken this step to go for an outstation marathon so soon, but for me I know with around 60 runners from Kolkata participating in the Hyderabad marathon in different categories has motivated me to train to the best of my ability and I know I am not alone. Now, it is about the main day when each of us motivates to cross the finishing line for a 10km, 21km and 42km race irrespective of which group we belong to.
The enthusiasm didn't just stop here. There were also common t-shirts of Kolkata Runners made which we will be sporting in Hyderabad. This is a T-Shirt that symbolizes the running spirit of Kolkata irrespective of which group you belong to. Some will be wearing this for the run and some for the expo when we go to collect our bibs, thanks to others like Sandeep Madan and Samudrajeet Ghosh being some of the runners who initiated this. The best part now, there are around 40 runners travelling on the same flight on Saturday morning to Hyderabad before we all reach the expo and represent Kolkata Runners on stage. This is followed by all of us going for lunch together. What fun!
This is what makes an outstation marathon so special. The planning, the training, the participation and of course the post run getogethers and fun. The pain and joy that will be shared, the love and respect that will be shared. I hope there are many more outstation marathons we travel for in large numbers which not only shows the strength of the running community in the City of Joy, but also motivates one another to push harder and believe we can cross the finish line when it's more the merrier case, no matter which part of the country or world we travel to.
Kolkata Runners Take a leap of faith as the finest steel goes through the hottest fire!
Hyderabad here we come
Picture credit : Kolkata Runners https://www.facebook.com/groups/314685788900271/
About the Author: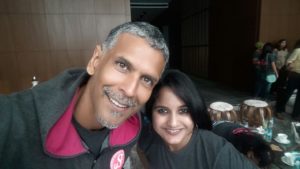 Guest Blogger,Journalist, fitness addict, marathon runner and dreamer all the way with a #Doseoffitness…And hey, I've got something to say so tune into My world "Prema's World"