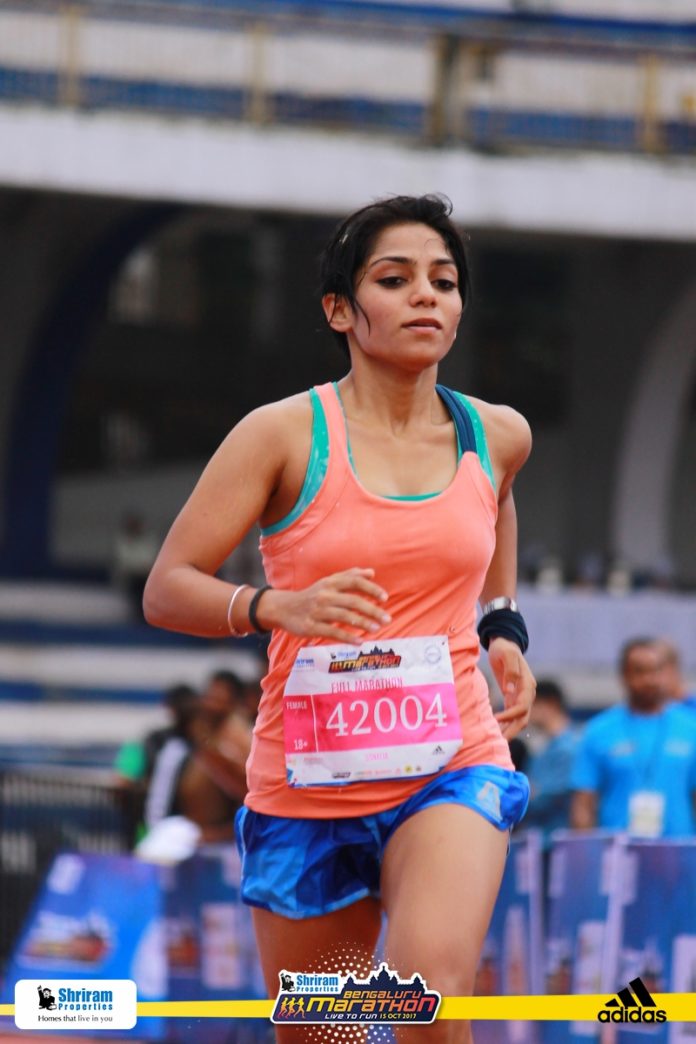 I being a 22 year old kid was so confused on what to do in life and that's what is like to be a teenager who is just out of college enjoying the best time of carefree life which has been bestowed upon us,but there are some who know exactly what they want to be ,definitely not like me.
Meet Sonalia Pal the Podium winner in her age category at her first ever full marathon "Shriram properties Bengaluru Marathon 2017 edition" who is so fast that she even didn't wait for the results and went home after the run to enjoy her breakfast rather than worrying about the outcome of the run,it was only the next day that some fallen soul has called her up to inform that she has stood first in her category in her very first full Marathon.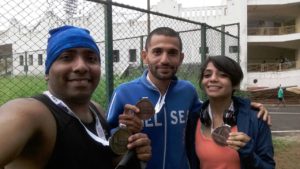 She has had more than 2 dozen runs which included 10k and Half marathons but this one remains special to her heart being the first full marathon and that too with a podium finish but life was not like this for her,it took lot of determination and fight within self to set the tracks of Shree Kanteerva stadium on fire. At one time she was a fluffy round kid at 82kgs on the weighing scale being the center of attraction for all the wrong reasons but as they say that your destiny is not in the lines on your palm but the lines on the track that take you to meet your destiny one day and i firmly believe that the journey has started with a bang for her.
She started running to lose weight,at the age of 16 and Now, at 22 ,she has successfully completed 25 runs including 1 full marathon, won around 17 including the Shreeram Properties Bengaluru full marathon with a podium finish, but she says that this was never the plan. But she runs still to be happy, to be peaceful and adds "when I hear that I motivated somebody to run, I don't have words to explain how good it feels" and "Being an army officer's daughter, I have led a very disciplined lifestyle. From waking up at 0430hrs in the morning to being a part of every sport there is, be it basketball, swimming, horse riding, squash, I have always been a sports enthusiast. Running now has become such a big part of my life that if don't complete my 20km daily, I literally can't sleep. It takes will power, courage, determination, strength and motivation, water and food obviously, to put me on the track each day, to get better, to get faster."
The time she won her TCS 10km kolkata run Ms. Bachendari Pal felicitated her and said , "At this age, if you can run at this speed, there is nothing that can stop you from being the best and your journey has just started, keep going and you'll make the country proud, I'm sure." and that was a turning point moment when she decided that to follow her heart on the tracks and being from the family of army personal helped her realizing the potential with a disciplined and determined lifestyle.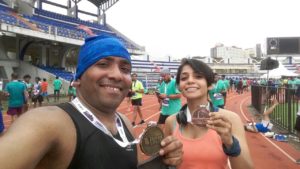 Her inspiration is her past and she dreams of being a Class One Air force officer to serve the nation and make everyone proud with a ever smiling face and running like "The lightning Bolt".
Team scroogeuncle wishes a very best to "The lightning Bolt" Sonalia.