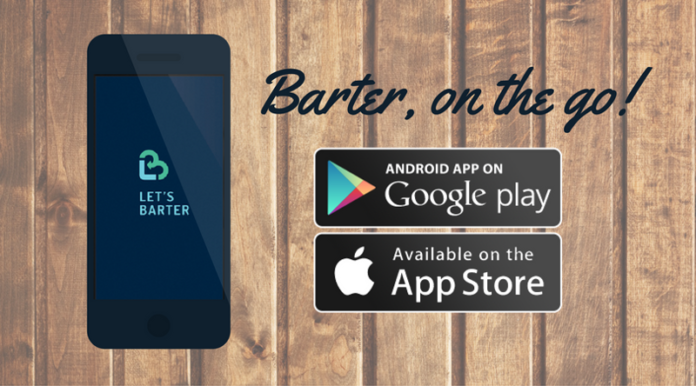 We are sure that most of us must have sometime or the other have gone to a friend or  brother to ask for one of his T-shirt which he never used  or otherwise and offer him movie coupon in exchange which he could use to hangout with friends or even his girlfriend, and if you have done it then yes you have been part of the oldest form of trade in the world known as Barter system.
Wondering why I am giving you a piece of history, hold on, it's the most ancient way of trade and is the best value proposition in our world of fluctuating currencies and depreciating assets as when we sell something its always peanuts paid for the product and you have to cough up a fairly good amount to buy your dream gadgets or books. So why not exchange it from someone who doesn't need it and offer something in return which may be liked or desired by your counterpart and live happily ever after.
LetsbarterIndia
So "Lets Barter India", no we are not starting a movement but a bright startup by the same name has started what can be termed as revolution which is going to make a beautiful mark in the tech and startup space.
What started as a facebook page to facilitate barter exchange has now grown to a beautiful website and app which engages more than 2,00,000 members on the platform that encourages members to offer interesting goods including furniture ,gadgets,services etc ..you name it and its there for your and someone who wants them just has to make an offer on the make an offer button on the app/website and you are good to go .
As it is said that "Need is the mother of invention" so this innovation in form of lets Barter india was born when one of the founders were not happy with a gadget owned and the other suggested why not exchange it for something you desire, and this was the eureka moment that gave light to this idea and friends turned Co-founders Sahil Dhingra and Pooja Bhayana decided to share this wonderful idea with the rest of the world and here we have lets barter india.With the Government pitching for going cashless in its fight for black money and boosting online and mobile transactions this may be the way forward
The website is beautifully designed and the mobile app is easy to operate with the heart shape logo ,you are bound to fall in love with the app. All you need to do is upload a picture and description of the product or service you have on offer and you are ready to go and would be contacted by prospective users who have some great offer for you. The inbuilt chat feature lets u discuss with the interested users without disclosing sensitive contact information to possible spam attack.
Image Credit: letsbarterindia.com
Funding
They initially used their own resources and then turned to family and friends who supported them to keep the idea afloat and move ahead on the journey and have been subsequently angel funded which has given them wings to fly.
So next time you want to exchange your camera or phone "Lets barter india"
You can see the following links for more details: