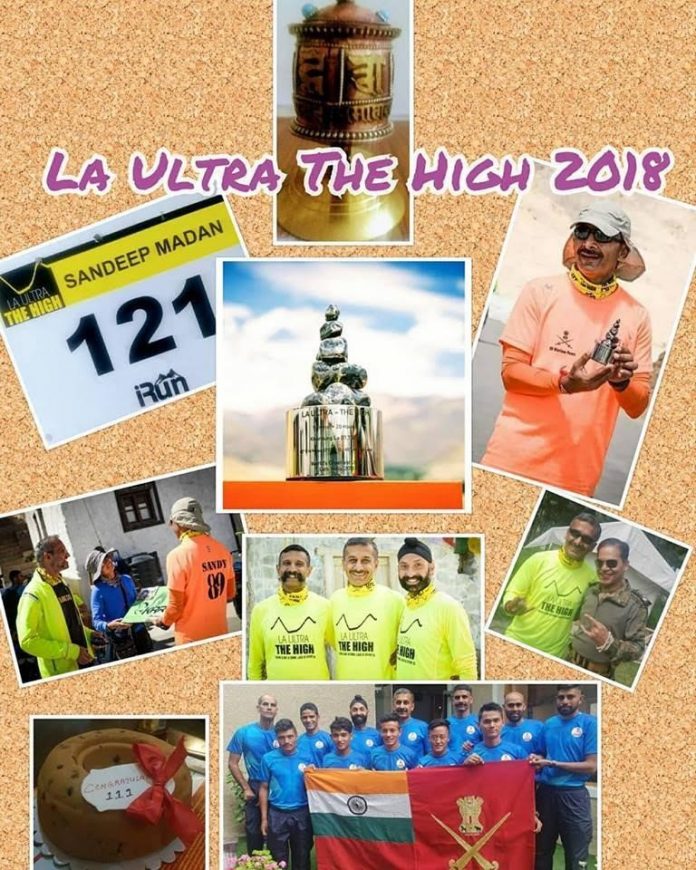 No matter how often one goes to Ladakh, there is a surprise waiting every time. Unfamiliar challenges won't stop you from travelling to the land of high passes or romancing its unexplored side. My affair with Ladakh commenced in September 2005 when I did a car safari, K2K (Kargil to Kanyakumari). The drive from Kargil to Leh to Pangong Tso Lake to Chumathang to Manali was best part of the safari. Leh-Manali Highway (highest motor able road in the world) is one of the surreal and breathtakingly beautiful highways. It is a 473 km long in the midst of Indian Himalayas and passes through five mighty Himalayan passes namely Tangla La, Lachung La, Nakee La, Baralach La and Rohtang La. Within a year I was back with my family to explore its sweeping scenic beauty, ancient Budhist gompas & monasteries, momos & thukpas etc etc, yet again. However, the idea of running at those altitudes never struck me then.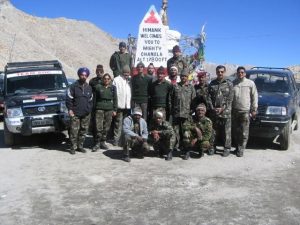 Having finished my extended tenure in the City of Joy in July 2017, I moved to a nondescript yet captivating town surrounded by fascinating forests, nestled in Kumaon Hills of Uttrakhand. Amongst many other things what I was missing about Kolkata was my running buddies, my daily runs, weekly long runs and Monthly Collaboration Runs. The process of settling down was on but that did not deter me from planning for the forthcoming running season. The surrounding hills gave me idea of trying a running event in the Hills somewhere. That reminded me of Ladakh Marathon, mentioned sometime back by my partners (in crime of running), Inder (Coolest Jeet) and Sandy (famous for his handlebar moustache). But it needed extensive practice and I had just 6-7 weeks with me. So I decided to try Half Marathon at Leh. To my utter displeasure, the registration was already over however Mr Chewang Motup, the founder of Ladakh Marathon was kind enough to accept my registration, but for Full Marathon. I was little apprehensive and hesitant but I registered. I commenced my practice. Acclimatisation is very important before one move into a high altitude area like Ladakh. The famous Border Roads sign board in Ladakh, "In the land of Lama, don't be a Gama" sums it up quite nicely. I landed in Leh, a week before the event and to my utter surprise, Sandy and Inder were already there.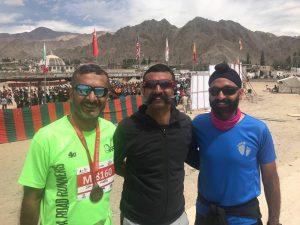 They had already attempted Full and Half Marathons in the previous editions and were now attempting 74 Km long Khardungla Challenge. It was a pleasure to see both of them and others finishing the event in style and inspired me to try it in the next edition. However my partners had better plans. They introduced me to an event called La Ultra The High which had three categories of 111, 222 and 333 K. I laughed it off thinking it to be some cycling event.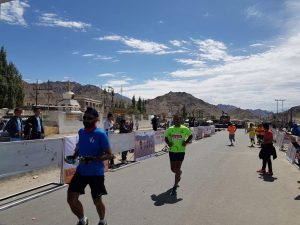 Next day, I ran the famous Ladakh Marathon. It was not easy to run at 11000 feet. Moreover I lacked training and sufficient acclimatisation.The experience of running at 11000 feet was altogether different. Undoubtedly it was tough and challenging. Post run celebration with Kolkata Runners provided the much needed succour It was a pleasure meeting them and reviving old memories.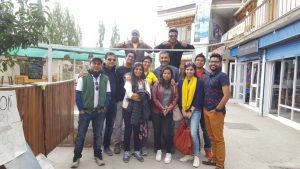 In the month of November 2017, I received a call from Sandy and Inder, asking rather ordering me to register for Garhwal Runs which was a qualifying run for 111 K of La Ultra. I was threatened with dire consequences if I failed to do so. I realised their seriousness so I had no option but to obey. That's how my journey into world of Ultra Running commenced. We all registered for Garhwal Runs which was scheduled on 17 Feb 2018.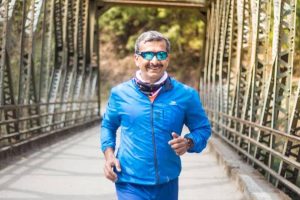 Garhwal Runs serves as a qualifying run for ultra runners who are interested in taking part in 111 km category at La Ultra – The High, but do not meet the primary qualifying criteria. Those looking at qualifying for La Ultra – The High need to cover the 74 Km distance in 11 hrs. The overall event cut-off is 12 hrs. The course has an accent of 7300 feet. I was totally clueless about Ultra Running so I contacted few known experienced and seasoned Ultra Runners namely Anjali Saraogi, Raj Vadgama, Sunil Shetty, Sunil Handa, Meenal Kotak, Yashwant Rawat (he along with his 17 years old daughter Jyotsana had completed both, Garhwal Runs and 111 K in 2017). All of them were kind enough to share valuable tips and guide me.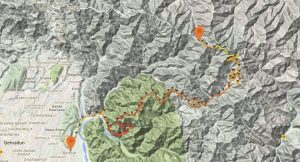 Sunil Handa even gave me a training plan which I followed religiously. I reached Dehradun on 16 Feb and stayed with my academy days' buddy, Munendra Gupta. Love and affection showered by his family provided me required nutrition before the Race Day. Inder and Sandy too had reached Dehradun. Meeting Anjali, Luv Burman, Ratan David, running buddies from Kolkata was a pleasant surprise. The race started from Raipur Circle, Dehradun on the chilly morning of 17 Feb 2018 at 6 am. There were 53 participants at the start line. The route had steep accent throughout but for 15-20 odd kms. Somewhere half way through I met Sandy and we both ran (or walked) the remaining half together. We both finished well within the qualifying timing of 111 K. Inder was way ahead of us and went on to break the course record alongwith Anjali and two others. Running the Ultra Run was an altogether different experience from running a Marathon in plains. We were back to Dehradun by late evening where Munendra along with his wife Bhanu, daughter Khwaish and parents had organised a grand celebration.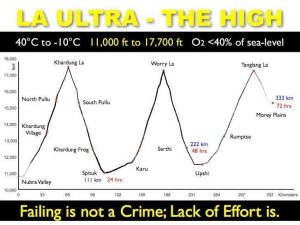 The focus now shifted back to La Ultra – The High. It is an ultra marathon like no other which is held in the month of August in the Ladakh region of Jammu & Kashmir. Never before was something labelled so cruel seeing the elements around it. When someone takes away 50 % of oxygen around you, decreases the pressure where it's difficult for your body to adapt, and asks you to run 333 Km under 72 hours, the idea surely seems insane. No other race gives you temperature variation like La Ultra. Ladakh, a Trans Himalayan region in northern India is a cold high altitude desert. Temperatures here in August can fluctuate from 40 Degree C hot to MINUS 12 C cold in matter of 6 hours. You will touch altitudes of 17,500 feet 3 times in the 333 Km category, 2 times in 222 Km & once in the 111 Km category. This is redefining the limits of human endurance, mental & physical. Only a few in the world of ultra running dare to take up this challenge.


Fortunately my organisation decided to field a team for 111 K category of La Ultra in its ninth edition in August 2018.. Qualifying parameters were drawn and volunteers were asked. Inder and self were fortunate to find our names in the final list. Sandy too registered and we started our training in right earnest in our respective locations from Mar 18 onwards. Sunil Handa had done both 111 and 222 and written blogs. He had written everything about training, nutrition, hydration, kit etc. We found them to be very useful in our preparation. In between Sandy and I participated in a stadium run in Mumbai in the month of June 18. The aim was to getting used to nonstop running for 12 hours at night.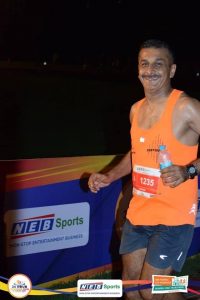 Ninth Edition of La Ultra was held from 23 to 26 August in Ladakh Region of J & K. We landed in Leh on 13 August 2018 and had our first official briefing by the organisers on 13 August 2018. Overall there were 39 participants for 111 Km, 8 for 222 Km, 5 for 333 Km and included 2 ladies and 3 foreigners. For the first time 333 Km was being attempted by Indians.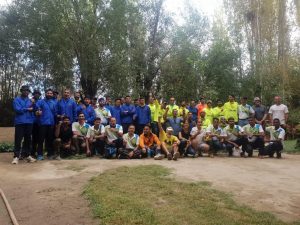 Thereafter we started our acclimatisation and collective training in high altitude. While mornings were for brisk walks/ slow jogs, the evenings were for strolls through the town. In between we also moved to the heights of 15000 to 18000 feet for practice. Some runners even went for short treks.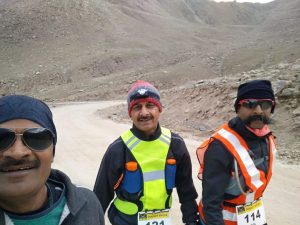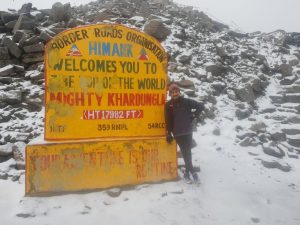 Medical briefing was on 21 Aug 18 wherein participants were briefed about Acute Mountain Sickness and related health hazards expected while running at such dizzy heights. After acclimatisation of 10 days in Leh and surrounding areas, the participants moved to Nubra Valley on 22 August 2018. Organisers had made excellent stay arrangements at a small resort at a village called Tirith. The morning of 23 Aug was spent in preparing drop bags which were to be deposited by 10 am. Thereafter all participants had medical check up.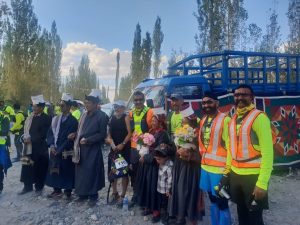 The race started at 6 PM on 23 August 2018 from Lakzung village at an altitude of 10000 feet in Nubra Valley. The route thereafter ascended till it reached Khardung La (17700 feet) and thereafter it descended to Leh (11000 feet), finishing point for 111 Km. There were 5 cut off points en route which were to be covered in stipulated time limit ( http://www.laultra.in/race-route/). Anyone not crossing the cut offs within the time limit, were taken off from the race. Keeping in mind the health hazards of high altitude, the runners were also subjected to regular medical check ups enroute. Mobile aid stations for hydration and food material were at regular intervals.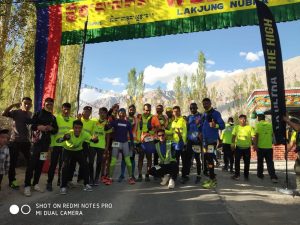 The finish point for 111 k was the iconic Shanti Stupa in Leh. The first runner reached there at 6.15 am (12 hours 15 minutes) on 24 Aug 18 thereby setting a new course record. I finished well within the qualifying time of 20 hours. It was a pleasant surprise to find a familiar face from Kolkata at the finish line with a big KRR placard; Sunmbul Rahman had landed in Leh that morning itself for trekking and didn't miss the opportunity to be there at the finish line. The route for remaining two categories continued further ahead of Leh and few insane went on to cross the finish lines of 222 and 333 K on 25 Aug and 26 Aug respectively. Hats off to their indomitable spirit.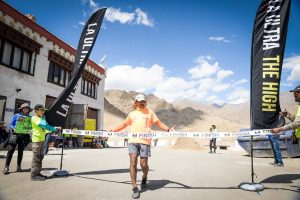 A word about the organisers definitely needs mention. Dr Rajat Chauhan, the Founder and Course Director and his entire team pulled off the entire event very well. It was not easy for them to organise the event in such harsh and challenging environment.
Ultra running is a entirely different ball game and it's nothing short of insanity in high altitude. But who wouldn't like to challenge his or her endurance. La Ultra was all about syncing one's physical, mental and psychological state, it was about remaining humble in worst of the conditions, it was about respecting mighty Himalayas, nature, it was about raising bar of one's abilities, it was about so many other things which one needs to be there to experience. Why don't you try it?
I need more space and time to write more about the run but holding myself for the time being. May be some other time, some other day. Till then allow me to continue my romance with the beautiful Ladakh……..and as our Course Director says, Keep miling and smiling.
Julley (Greetings from Ladakh)