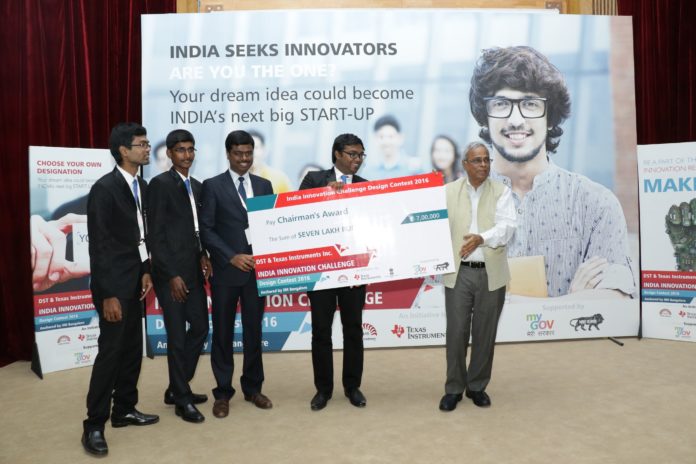 INNOVATION on 'Watchdog for Agriculture Farms' from Sri Ramakrishna Institute of Technology College wins Chairman's Award at Texas Instruments India Innovation Challenge Design Contest 2016
10 student teams receives 2 Crore funding from DST to launch their start-up company and incubated at NSRCEL, IIMB
Bangalore, July,2017:  Sri Ramakrishna Institute of Technology College, Coimbatore bagged Chairman's Award for the best innovative product for the Texas Instruments India Innovation Challenge Design Contest 2016. This was announced at the grand finale held at IIM Bangalore and was presided by top minds in academia and industry. The dignitaries present were Prof. Ashok Jhunjhunwala, Shri NS Raghavan, Shri Harkesh Kumar Mittal, Dr. Anita Gupta, Prof. G Raghuram, Dr. Peter Balyta and Sanjay Srivastava.
The first runner up for the Texas Instruments IICDC 2016 is the team from IIT Kharagpur for their innovation on tracking sleep disorder and the second runner upis from Dream Institute of Technology, West Bengal for their innovative solution on safety ensuring wearable. Total 30 teams participated in the finals which received 1.5 crores as product development fund. Out of these, Jury selected 10 teams which will receive INR 2Crores seed fund and opportunity to be incubated at NSRCEL, IIMB.
The 2016 TI IICDC saw participation from ~11,000 engineering students across 624 colleges in India. The collaboration with Indian Institute of Management Bangalore (IIMB) and Department of Science and Technology (DST) has helped to nurture the young engineering minds and support the Make in India Program at IICDC 2016. In the 10 months long challenge, the participants saw an intense mentoring program from IIMB and TI. TI provided technical resources and guidance throughout the contest, including tool support and mentoring to design & help the students make their prototypes. DST provided funding of INR 3.5 crores to the student start-ups, which went towards the product development and seed fund. The online platform MyGov, promoted active participation of Indian citizens in the country's governance and development, helped students from all different corners of the country to register for the IICDC through the MyGov portal.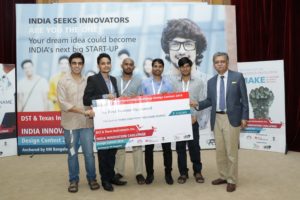 Commenting on the award ceremony, Mr. Laxmi Kant Tiwari from IIT Kharagpur, one of the selected 10 teams said, "We feel honoured and privileged to emerge winners of this year long challenge. It feels all the more exciting to know that we competed amongst the best minds in the country and we were chosen by eminent jury members as the winning idea. We are confident that we will be able to work on this innovation further with the assistance and guidance from TI, IIM B and our mentors. We are all thrilled to start our new journey as entrepreneurs"
At the heels of the results, Texas Instruments India Innovation Challenge Design Contest (IICDC) 2017 is now open for registrations at www.ti.com/iicdc
About Texas Instruments: Texas Instruments Incorporated (TI) is a global semiconductor design and manufacturing company that develops analog ICs and embedded processors. By employing the world's brightest minds, TI creates innovations that shape the future of technology. TI is helping approximately 100,000 customers transform the future, today. Learn more at www.ti.com. For more information on the global TI university program, visit www.ti.com/university.
About IIMB & NSRCEL: Indian Institute of Management Bangalore (IIMB) builds leaders and entrepreneurs through holistic, transformative and innovative education. An EQUIS accredit school, IIMB is an acknowledged hub of academic activity in India and globally. IIMB's research centres include the Centre for Public Policy, the Nadathur S Raghavan Centre for Entrepreneurial Learning, the Centre for Financial Markets & Risk Management, the Centre for Corporate Governance & Citizenship, the Centre for Software & IT Management, and the Centre for Supply Chain Management. The N S Raghavan Centre for Entrepreneurial Learning (NSRCEL) incubates start-ups and provides free mentoring for budding entrepreneurs. NSRCEL currently incubates 18 start-ups – perhaps the largest number for an incubation center in an academic institution.  In 2016-17, NSRCEL conducted 500 mentoring sessions and over 50 events. Through its rapidly growing open mentoring initiatives, it is conservatively estimated that NSRCEL may have directly impacted in excess of 10,000 entrepreneurs, aspiring entrepreneurs or other participants in the ecosystem since it was established in 2000.
About DST: The Department of Science and Technology (DST) set up in 1971 by the Government of India plays a pivotal role in promotion of science & technology in the country. The department has wide ranging activities ranging from promoting high end basic research and development of cutting edge technologies on one hand to service the technological requirements of the common man through development of appropriate skills and technologies on the other. One of the mandates of DST is to support innovations, science and technology based entrepreneurship development and technology business incubation activity through National Science and Technology Entrepreneurship Development Board (https://www.nstedb.com/). The board engages with academic and R&D institutions and also partners with leading industries to promote entrepreneurship across the country.
About MyGov: MyGov is a novel initiative taken by the Government of India to build a crucial partnership between Citizens and Government with the help of technology for materialising the real potential of India. Through this platform, the Government encourages public participation towards Good Governance by seeking ideas, suggestion and creative talent of citizens.  MyGov's focus is to empower citizens to work hand in hand with government to channelize their collective energy into constructive nation building. National Informatics Centre (NIC) under the Ministry of Electronics and Information Technology (MeitY) has designed, developed and hosted the MyGov and twenty (20) of its Sub-Domains.