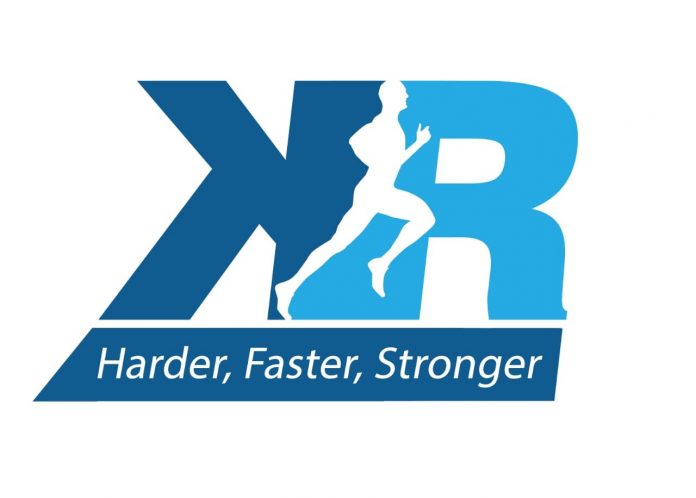 We celebrate the second anniversary of KR by going back to the history where it all started, designed and presented in collaboration with Prema and our own scroogeuncle aka Abhinav. As collaboration is what makes us true to our motto Harder, faster, stronger.
The beginning…………..
Somewhere in mid 2015, a bunch of strangers started meeting regularly near the iconic Victoria Memorial. These strangers shared common passion of Running. Gradually and slowly, few more joined them and ultimately these runners culminated into giving birth to various running groups in the city, with Kolkata Running Squad (KRS) followed by Kolkata Ultra (KU) being the pioneers. A couple of more groups were formed in next one year and running culture started setting in.
.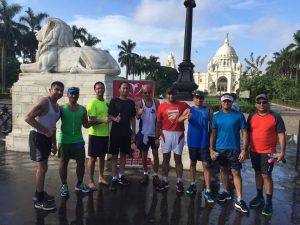 On a hot and humid evening sometime in August 2016, a few like minded runners from the city sat together over a cup of coffee in the sprawling lawn of Ordnance Club at Hastings. Anjali Saraogi, Ruchi Basu, Prema Rajaram, Medha Garhwal, Nikhil Golcha, Vernon, Premjit, Nishant Maheshwari, Jaidev Raja, Vipul Majeji, Kaunak Biswas, Vijay Dara, Sanjeev Sancheti and Sandy Madan were the representatives of the running groups namely KRS, KU, Unirunners and Kolkata Road Runners (KRR). The agenda was to bring together all the running groups of Kolkata on one common platform. The need was felt due to increasing popularity of running as a major fitness activity and a resultant growth in running events and running groups all over the country especially in the metros. However Kolkata seemed to be lagging behind. Many in the city were baffled why a runner was pushing to run 10km and more and hence the running culture had not picked up in the true sense.
Outstation events saw Kolkata being represented by a handful of runners amidst a sea of their counterparts from other parts of the country. Even these handfuls wouldn't be aware of the presence of each other there. The organisers of major running events were not too keen to bring their events to the city and had literally termed the city as lazy. Staggered efforts were being made but in isolation, which needed to be concentrated for recognition. Amidst various apprehensions, the gathering at Ordnance Club decided to give it a try and zeroed in on the first collective sort of run on 1 October 2016.
The first run was organised in an ad hoc manner by KU since there was no Standing Operating Procedure for the same. It however removed lot of apprehensions from the people's minds and ignited hopes for a Running Community in the city. That's how Kolkata Runners or KR came into being on the fateful day of 1 October 2016. It went beyond just the idea of creating a larger running community to bring about more enthusiasm about running in the city that prompted Kolkata Runners to take shape. It was the willingness of runners across the city and running groups to contribute to seeding the idea to become a reality. That seed has culminated into the much talked about Monthly Collaboration Runs. Post 1 October 2016, everyone wanted to leave a mark on the running community in the city and the country which brought out the exuberance of Kolkata as opposed to the perception of laziness. Today, thanks to each individual's efforts and corporation of running groups in the city, Kolkata fits in as a significant slice of the pie on the running map of India.
Collaboration Runs……….
What started as just an idea with only four groups, seeded into a tree with its branches in the different corners of the City of Joy. Kolkata Runners is the tree whose branches are the 12 running groups which together sum up the running fraternity in Kolkata.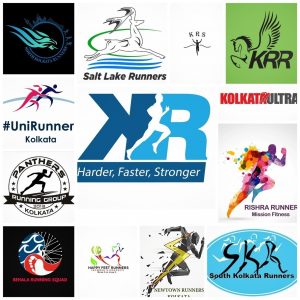 What makes Kolkata Runners unique is the concept of monthly collaboration runs where running groups in turns host a run on the first Sunday of every month. The turnout goes beyond just a mere handful to instead a 300 or more runners coming together to be part of a community run of sorts. In last 24 months, 15 Collaboration Runs have been hosted. The missing months have been those which had major running events being held in the city or elsewhere in the country. The first one is always special, be it love, a child, a toy, a car or anything else. Likewise the first Collaboration Run held at Godrej Waterside, Sector 5, Salt Lake on 1 Oct 2016 will always be remembered very fondly. It will go down as one of the most memorable event in the annals of history of KR. Don't miss the first ever group picture of KR with everyone in Usain Bolt's signature "Lightning Bolt" pose. Take a look…….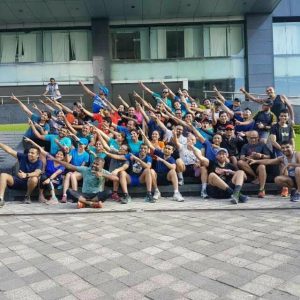 How has this helped?……….
Be it runners across different running groups, independent runners or new comers, it is the thrill of coming together to meet runners from different parts of the city and being photographed by ever smiling Garima Aggarwal of Shutterbug Photography and Dasgupta Bros of DG Photgraphy (Sayantan & Suman). Reason enough to make you want to wake up early on the first Sunday of the month and be part of the gala meet.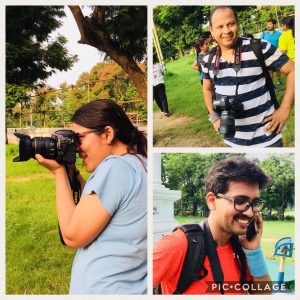 Over a period of time, the procedure to organise the runs has been streamlined. The whole idea is to have a platform for bringing all runners together where they can meet each other, share each others' experiences, draw inspiration from each other. That's why the event is organised in the simplest way possible with no commercialisation and least of expenditure borne by the members.
Roads all over Kolkata swarmed with runners early morning clearly indicate growth of the running community in the city. And it is growing further. The runners from the city have started travelling to participate in various running events. Seeing a herd of Kolkata Runners at outstation running events was unheard of 2 years back but now you find them in all major running events of the country.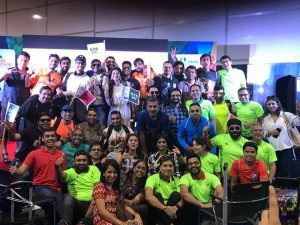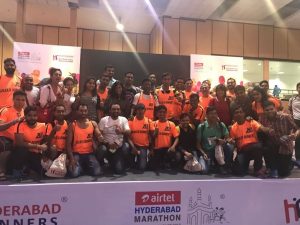 Any talk about Kolkata Runners is incomplete without mention of some of its star runners, Anjali Saraogi, Arun Kumar Singh, Jaydev Raja, to name a few. Anjali Saraogi, the pride of not only Kolkata but the entire nation has been phenomenal in last 2 years. Beginning her running career from a city event in Nov 15, she went on to achieve BQ (Boston Qualifier) in her maiden Marathon in Chicago in Oct 16. She has been unstoppable since then as she has been a top finisher in all major marathons of the country. She has been the fastest Indian Female at Comrades, the world's oldest and largest Ultra marathon where she won the Bill Rowden Medal. Her crowning glory however has been to be the nation's flag bearer while representing India in IAU 100K World Championships 2018 at Croatia. She completed 100 Km in 9 hr 40 min 35 seconds thereby becoming the fastest Indian Female in 100 Km category.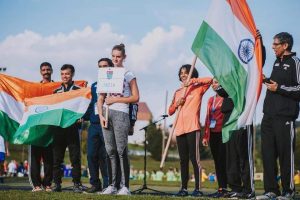 Arun Kumar Singh, 67 years' young old man is the most respected runner of the city for his achievements in Masters' Athletics Championships at national, Asia and International levels. Arun Sir has the honour of representing the country at all possible levels and winning medals too. This is despite the fact that he picked up running in his fifties. He is the celebrity at each Collaboration Run where people just want to meet him and take a picture with him. An inspiring figure indeed.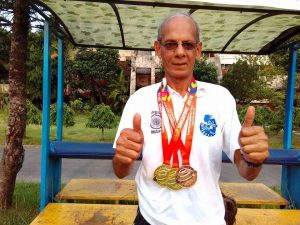 Another runner who with his sheer dedication, hard work, perseverance has carved a niche for himself in Ultra Running Community of the country is Jaydev Raja aka Jbro. He has the habit of challenging himself with difficult targets and achieving them too. No wonder he is the most loved runner of the city and is ever ready to guide the fellow runners.
There are many others like Arun sir, Anjali, Jbro who have been bringing glory not only for themselves but to the city as well thereby inspiring many.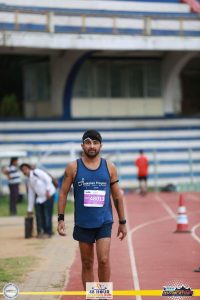 Way Forward………..
Last two years have seen many new events coming to the city, IDBI, Pinkathon, TSK25 (has even gone international) and many local organisers too having many events like Airtel Run For Education, Kolkata Trail Run, BSF Marathon, Kolkata Police Run etc. The runners are spoilt with choice of events now. With this, KR is now taking a leap of faith and helping many organisers hold their events and this experience will help to perhaps come together for a bigger initiative like that of Hyderabad Runners. Someday Kolkata Runners shall have their own Marathon event too.
The key focus is keeping KR simple as one big happy running community, yet at the same time to make a difference as a family. The core committee members are people representing different running groups and the running community at large that takes decisions in the best interest of runners under the umbrella of KR.
Today Kolkata Runners is an umbrella organisation which encourages the older and newer runners by coming together to host everyone, irrespective of where one belongs. Kolkata Runners inspire people across the city to carry forward the baton by running those miles, lest those miles remain a distant dream for many. For the 400 plus odd members of Kolkata Runners, this is just the beginning of an exciting journey ahead with the best yet to come.
Together KR can, because KR believes it can.