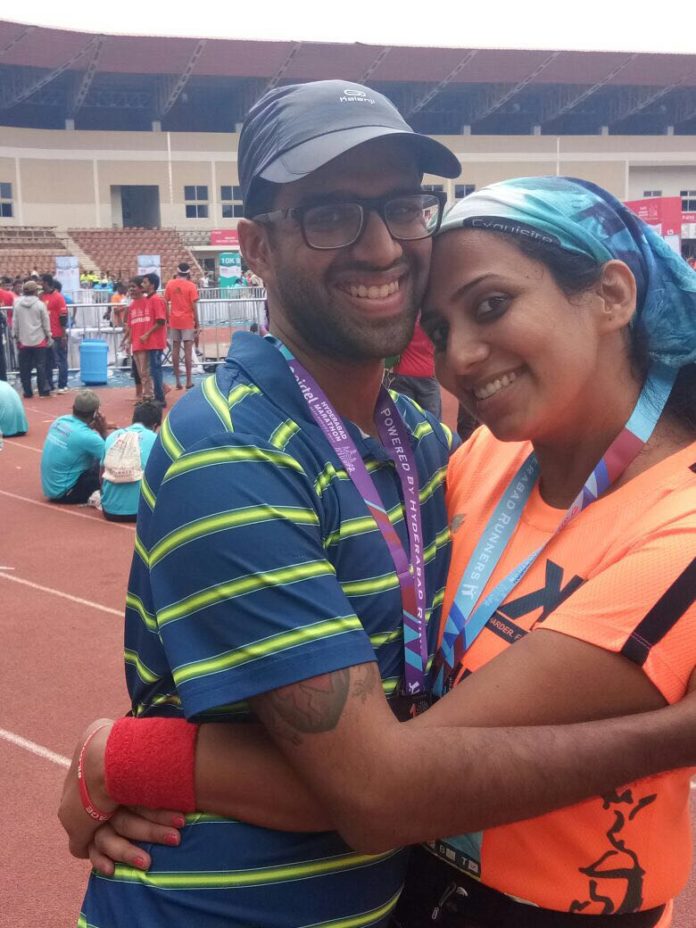 How often have you struggled your way to the finishing line in a half or full marathon and for most of the runners the answer would be, maybe a couple of times.But have you seen anyone who dances her way to the finishing line even if it was a lot of pain that have stopped her every few minutes of the run and i will take a no for the answer.Presenting the one and only runner who gives up her Personal Best time for a toss to enjoy the music of the bands during marathon and makes sure that she has shaken her leg with the school kids cheering on the sidelines,and she is none other than Debjani choubey as she is fondly known as "DJ". She is the fearless girl of the running world who is not afraid of the pain or anything else that may come between her and the finishing line and off course a little bit of dancing in between her runs.
While other runners are gasping for breath and reaching out for water at the water station keeping an eye on the elapsed time,you would find her dancing and enjoying the music with the school kids who are there mostly at the marathon events to cheer up and encourage the runners and bring on the lost smile on everyone's face, she is like the famed "Barkha Dutt" of the news world who has set examples for others by performing her job while surrounded by blaring guns in Kargil. If some of you are offended to her being compared to an iconic news persona then let me tell you that when she is not running she is reporting live as a news person from some of the toughest and riskier surroundings so that we sitback at ease and enjoy the news and give out the views that is our democratic right and for some its our birth right even if we do not appreciate the hard work of journos like her who risk their health and safety to keep us updated to take informed decisions.
Coming back to the running that she manages out of her hectic schedule as a news person,its an inspiration for people who crib that they are not left with enough time to follow their love or aspirations for better health. Here is the next "Barkha Dutt" of media world who is setting an example for all those who look for excuses of not following up with their health and here is someone who is not only following up her health but also helping other for taking up running as a way of life . I got a chance to run with her in the Hyderabad Marathon and couldn't help admiring her spirit of enjoying the run and making other so comfortable around her which didn't stop her from pushing me to go ahead and give my best.
There are so many runners and people who know her saying wonderful things and praising for the great person she is , but there is one person who she admires more than herself and we got a chance access of what this special person has to say about her and here we go in the words of Yashovardhan or Yasho as he is fondly called as "This is for someone really special- Dj bro( as I call her). A person who can(actually who will) be the life of the party, she is someone I adore. She can be soft or a Bad-ass according to the situation requires. I know her personally from a few months but I know she is someone with whom I will have a gala time with huge amount of fun.On this 34th birthday all I can say is may you continue * imagine some senti words*.Happy running and Cheers to running many more miles together!! "
"You are not getting old, you are just getting better "
Lets hope that she continues her run on the track and in the news room with the same spirit and elan and wish her all the best till we come up with some breaking news about her. Way to go girl.
Featured Pix Courtesy: Anustup Roy