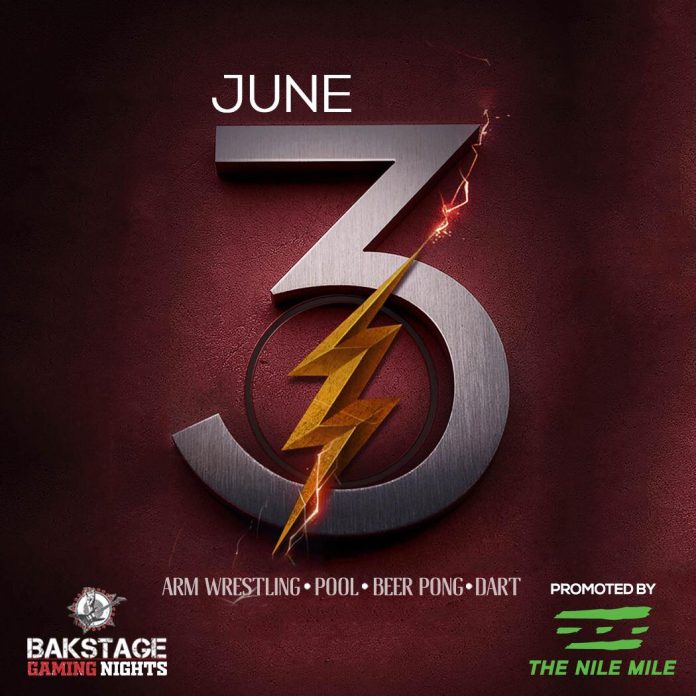 So as and when we think the night is no more young in the eastern part of the country we are met with an excitement surprise and this time its back at bakstage gaming nights which has made the city of Joy enjoy its evenings for years.
The pioneer of party hard theme in the city has worked hard to keep the excitement going with twist and turns for you to enjoy your time with family and friends and they have curated some great fun events to get your adrenaline rushing through your drinks indeed.
Bakstage presents Bakstage gaming nights in association with the pioneer of fitness ,The Nile Mile and the game of Arm wrestling for the first time in the city to engage the pub crawlers in an entertaining fitness corner to find out kisme hai kitna dum on 3rd of June between 7 pm and 11 pm to find the gladiator in you over drinks,dart and dancing.
As per Mr. Anant Doogar of The Nile Mile  "Arm wrestling is a sport involving two participants. Each places one arm on a surface with their elbows bent and touching the surface, and they grip each other's hand. The goal is to pin the other's arm onto the surface, the winner's arm over the loser's arm.
In many parts of India, we know arm wrestling as every day fun activity and winner would get all the bragging rights of his strength 💪. This street brawl which is almost played in every school at some possible point of time is one of our childhood memories. We played it to display our muscle strength, sometimes to woo a girl 😉,sometimes to win a third party gift 😂(anything ranging from a chocolate to pen). This fun activity now went on to become a professional sport in most parts of the world. Albeit unknown to the most in a cricket frenzy country like India, professional Arm wrestling is slowly growing in out country, thanks to efforts by Indian Arm Wrestling Federation.
We aim to make this a mass participation event and to identify the players and help impact the growth of Arm wrestling in India. We want to mix the fun part and professional standards to take this sport to every household in India as part of their daily lives."
So if you want to display how hard you worked at the gym or impress someone else's girlfriend or wanna settle a brawl over some beer ,this is your chance to show some muscle without much tussle at "Bakstage Gaming nights" on 3rd of June between 7 pm to 11 pm , so join your friend to cheer over a couple of beer.