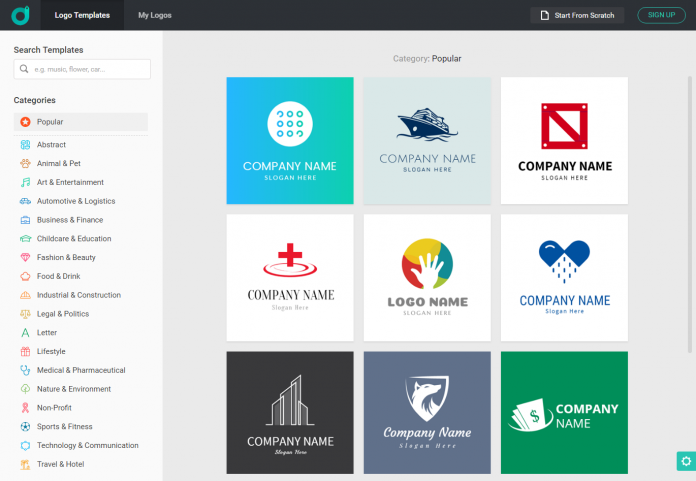 DesignEvo Helps You Create Pro Logos Easily
My dear friends, you must have seen many big companies, websites and business logos. A logo of a company or business will make it identical and attract many fans.
It's not easy to design a good logo, it requires a lot of time, skill and money. But with the help of DesignEvo, you can easily create a great professional logo for company, business or blog. It has both free and paid version. Let's check its main features one by one.
More than 5000 professionally designed templates
If you are a beginner, you do not know how to make a logo from the very beginning. You can just pick one logo from the more than 5000 designs already built and then fine tune its color, size, icon position, font, etc to create a logo for yourself.
More than 1 million Icons are available
If you want to create your own brand new logo staring from scratch, here you have a lot of icons available. You can search the icon in the topic by typing specific keywords that fit for your logo theme.
For example, if you want to design a logo for your restaurant, then type "restaurant" keyword in the search box when searching. You will find many related icons that you can use to create your own logo.
Hundreds of stylish fonts and shapes
You can design a nice professional logo using the Fonts and shapes present in DesignEvo. With the help of these shapes you can decorate your logo. DesignEvo allows you to change the shape's color, size, position, opacity, etc.
Whatever the shapes here are the vector image, then their quality will not be affected when you resize it. You can do high quality logo design.
Fully customizable feature is available
DesignEvo also provides many easy to use tools for your to fully control your logo. You can completely edit the logo resize, rotate, color, background, layout etc.
Preview and Download
After your logo is ready, you can see the preview of what this logo will look like on your business, website, mobile application, book cover etc. If you are not satisfied with the logo, you can redesign the logo.
If everything looks great, you can download your logo in JPG and PNG format. DesignEvo offers free and paid packages for download. The free version could meet all most of your needs. If you would love the premium packages, you need to pay some dollars.
DesignEvo develops on almost all platforms, Desktop Application (Windows will be developed soon and Mac) and Mobile Application (Android and Apple App Store).
So if you also want to make a good professional logo for your website, business, application, software or YouTube channel, DesignEvo will be a good tool for you.