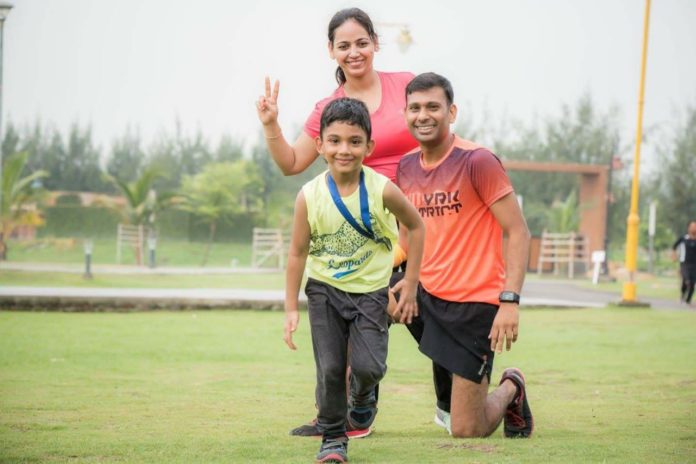 If you see an industrialist running along the Marine drive in Mumbai then the only name that comes to our mind is Mr Anil Ambani who has set the standards high in the corporate world with his daily dose of high octane running but you need not travel to Mumbai to witness such a spectacular moment,just travel closer home to Eco park and you might find a similar persona running around the lakes if not marine drive and inspiring runners who want to match up with his persona ,passion and love of running.Presenting our own " Man of steel" Saurav Bhartia whom you can find either Making steel at his Asansol steel casting pvt ltd or bending the roads of new town with his running that might give the desi Usain Bolt a complex of sorts.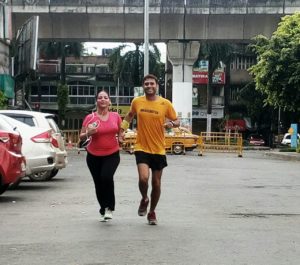 If by this time you are in awe with this guy and some girls are going weak at the knees then beware this cute looking man who is happily married to a beautiful girl Nidhi Agarwal Bhartia who holds the key to his life and girls, the door is shut on your face with the board "Not Available",and if you are vying to come closer to him during runs then let me tell you that Nidhi too joins him for the runs being the force behind his well being managing the home office while he paves steel around the world.Now his son Vivaan Has joined him following his footstep and hopefully the new member of the family little Saanvi will follow papa dearest in a few years for sure and complete the running circle of the family. So now you are in awe with this family with how running and fitness runs in the their blood then wait this is just a part of the story and you are yet to meet the Patriach of the clan Mr Prahlad Bhartia who is the force inspiring this Man of steel to take up running as a way of fitness not by force but leading by example. Long before saurav got into serious running the "Man of steel" Senior was runing 10k runs at the age of 60 when leave aside common people even athletes are decades into retirement but when there runs steel in the veins then age is just a number to stick onto official documents.
Inspired by his Role model and fueled by his determination to defeat asthama he started this journey of fitness following up with Half and Full marathons and Medals stocking high in his wardrobe and In a way or the other inspiring other runners to get along and improve not only to be a better runner but better person and we saw the shine of his heart of Gold when to cheer up and celebrate the sojourn of Kolkata runners at Hyderabad he organised a wonderful party at "Air cube" one of the Posh and by far the best club at Jubilee hills,Hyderabad and treated us with love,laughter and music staying back till the last runner has left and you rarely see a person who goes to this extent to bring back the lost smiles after a day of tough run.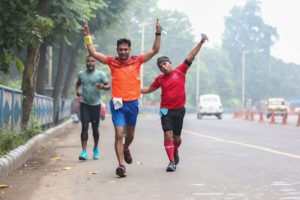 One of his running buddies quoted " He is a person who has supported me and encouraged me to take up 100days running challenge when i thought i couldn't, and instilled confidence by being by my side while i crossed every single milestone in the challenge "
Wishing this " Man of Steel" smiles that go miles which he covers every single day and millions of heart that he captures every single step.
Featured Pix Coutesy :Sayantan Dasgupta https://www.facebook.com/sayantan.dasgupta.14
Pix Inserted In the post Courtesy :Chao Lengdon Chaocing https://www.facebook.com/chao.chaocing