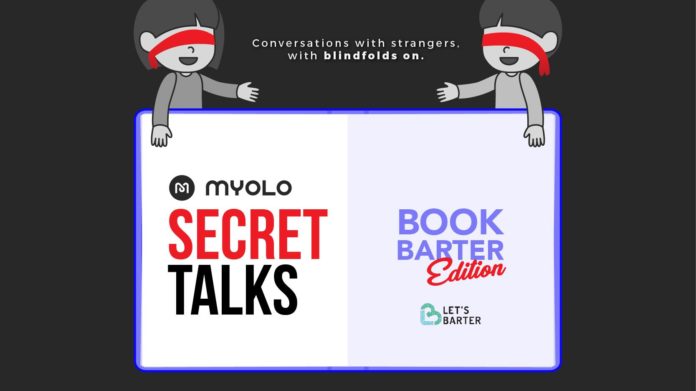 Let's do some Secret Talks & some Books Barter
Blindfolds, pseudo-names, strangers becoming friends and lots of books barter, that sounds like our kind of a party! We really missed meeting amazing people at our BARTER events, and this time we are doing a Books BARTER edition of the Secret Talks event, presented exclusively by MYOLO.
#LetsbarterIndia which is countries foremost barter and cashless transaction startup has come up with an unique event named "secret talks" to encourage people to go ahead and meet like minded people and # letsbarter.
In a candid conversation with the founders ,Pooja Bhayana explains how it works
What is Secret Talks about?
Conversations with strangers, with blindfolds on. Meaningful, fun talks; no judgement. It's about having lively conversations without judgements and prejudices. It's about paying attention on words/conversations and not physical appearances.
So, let's talk to strangers with blindfolds on, and some very interesting pseudo-names. Come and feel free to mingle with like-minded people and bring your favourite book for barter!
When is it happening?
4th of June' 2017. Sunday afternoon, make sure you take out time between 4–6 PM to meet new friends and vent it all out.
Where is it happening?
In the heart of city, CP. The event would take place at Innov8, CP- one of the coolest hub for innovators and leaders of tomorrow. It's easily accessible by the metro too, just walk it to Regal Cinema Building.
What does one have to do/bring?
Since this Secret Talks comes with a twist of barter- you must get a book along and barter it with the other interested bibliophiles..
So India please join in hordes to support india's Cashless barter movement