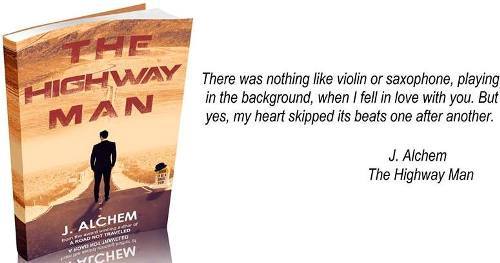 When i was told about this book "The Highway man" which is a collection of short stories by award winning writer J Alchem ,i got excited to get my hand on the book and i got it on my kindle and trust me it was a welcome change for me.
"Elevated and refreshing, the Concept and execution is tremendous and it transports you to a different world where you can relieve the characters with stories of their own, that's exactly my thought after going through the journey , "The Highway Man" from highly acclaimed award-winning author J Alchem. This new gem is an bouquet of three short stories on three different themes with awesome conclusions. The author have chosen three short stories with catchy names; 'Catherine, Sidzy and The Highway Man', portrays the writer's 'out of the world thinking'.
Catherine: The beginning :Catherine starts with a unique and never thought before subject on how a best-selling author Nicholas falls for his character that he created in his imagination. He gets completely obsessed with the character to such an extent that his real life was lost somewhere and he lives his life through his imagination and it takes interesting turn that keeps readers on the edge
Read this story as the mystery unfolds before your eyes.
Sidzy: This short story goes around the love-life starstruck lovers of Jihan (man) and Sidzy (woman). On 8th of March, on the occasion of International Women's Day, Jihan tries to surprise his soulmate by living the life of Sidzy and showering the day with love and affection and celebrate this auspicious day .This emotional thriller will let the tears roll down taking some of you down to the memory lane of your romance, discover it by yourself.
The Highway Man: The Story that shares the Book Name awesome imagination makes this story worth a read. The tranquil and melancholic life of Rohan and his son Ayaan takes a big twist the day they met a man on the highway. How this changes the life and they find their long lost bonding, You will have to read the book to know the end of this story.
All stories of "The Highway Man" are refreshing to read and have a different take on life. The writer J Alchem himself dedicated this book to Dr. A. P. J. Abdul Kalam and Aamir Khan. The book is certainly a source of inspiration and motivation to all those people who have lost hope in their dear lives. Finally, it hardly takes an hour to finish this book. So, go and read it now.