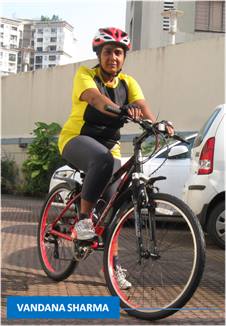 There are so many people who fight odds to make a difference for themselves and inspire a whole generation to go the healthy way with "The FitFactor", We at scroogeuncle got this opportunity to meet one such inspirational leader who is not only inspiring people to be fit but also reduce their carbon prints by cycling,Here are some extracts from the interview.
The Fitness Fit
'Fitness' and 'weights n measures flash' together…always; at least, 99% of the time. Correct to an appreciable extent. However, when you step into forties n fifties, fitness starts to take on a more complete picture with the realization of the mental aspect of fitness; the two are inseparable.Hi, I am Vandana Sharma, a blue collared homemaker!! (not the managerial servant supervising one). Although I studied Industrial relations n Persn Mgmt, I chose a far far more organic career of setting up my food processing unit. With the birth of my kids at relatively late age of 33 & 37, I put my career completely off the burner. And 'Fitness' was the last thing on earth that I could think of.
When things started to look fairly stable, I bought my first cycle at a 'tender' age of 40 yrs & 10 mths. We were in Mumbai then and fitness for me was only and only to lose weight n get back into shape. Although with a more or less haphazard routine and very less thought to diet, I was down from 79kg to 69kg within around 10 months and was feeling upbeat. But that is not my fitness story at all. My fitness story began with a big jolt when during my gallstone surgery, I was diagnosed with liver cirrhosis. Despite tests no reason for that could be established. The saving grace, the doc said, that it was in its early stage and its progress could be contained by taking due precautions n periodic MRI to check its status. However, that was more than enough to throw me off my mind completely. My kids were 3 and 7yrs old…Every little thing suddenly became a huge burden. Instead of taking control of the situation, I left things to turn worse. I turned miserably ill tempered, was low on energy n complaining all the time. At times I tried to focus and realized my kids were getting affected, but I was not doing anything. Every 3 months when the MRI was done, I seemed to lose more of myself and within a couple of months I was 80 kgs, had left cycling, was a compulsive eater and could gather just enough energy to look after my kids. A good friend, doctor and fitness freak, Deeptee, tried to get me on to exercising but I was not able to sustain it.
We shifted to Kolkata soon after in Sep 2015 and problems seemed to blow off the roof. Then as destiny would have it, my 6 yrs old daughter caught dengue in Aug 2016. The newspapers then were replete with news of dengue deaths. The thought of losing her was a fear we had never known. That nightmare passed away with Dr. Deeptee standing by us all the time n God's grace… but it left me thinking what if my irresponsible attitude towards my condition made life miserable for my kids and husband.
This was the start of my fitness journey as a 45-year-old homemaker.
In Nov I started with 30 mins walk 4 days a week and 10 rounds of surya namaskar. The walks seemed too tame and annoying, but surya namaskar was tough and I loved doing it. By Dec 2nd week I was doing 30 surya namaskars, 90 sec planks and a 4 to 6 km walk-jog 3 to 4 times a week and was put on homeopathic medication by Dr. Deeptee. The food front was unchanged but I was trying to take one thing at a time. By Feb end I weighed 3kgs less and although the weight loss was less, I was feeling good since I felt more energetic and in control. I specifically and definitely can identify what Surya Namaskar was doing. It was a stretching, aerobic, and weight training all rolled into one on the physical plane and immensely soothing on the mental one. I was thinking better, could control compulsive eating to a big extent, planning better n was feeling stronger. The improvements established themselves in medical tests were the liver enzyme tests had inched lower towards normal ranges for the first time in 5 years. I felt as if I had won the entire battle.
I stopped walking and started what I had really enjoyed, cycling. Getting onboard the cycling group, CNG [Cycle Network Grow], was a most positive coincidence. Hitherto, I had always done solo rides and still didn't ride with the group but I was able to feel the action around me.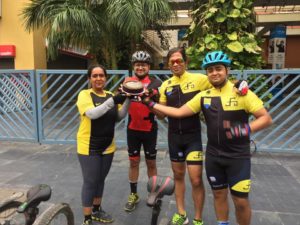 I went full on into activity on the 1st of May when I registered for the CyclinIndia Summer Challenge in the 35km category. there were 15km, 25 km categories as well but I wanted to see how far I could go. I was rewarded in ways more than I could ever think of. By the 31st of May I had cycled 1035 km. The most memorable ride was my first group ride (77km): more than confidence, it gave me friends…. people who were not cribbing, who were on the move, creating, generating energy, enabling, exploring and challenging status quo every day. It was an awesome win-win situation. Then the final perception defining moment came with my first 100 km; 101.5 km in 5hrs 36mins, done solo—I was really at peace with myself. It was like a long meditation session. I was cycling for five and a half hours on completely unknown roads alone with only 3 breaks. I had met myself after a long, long time…a really long time. When I finished, I patted my shoulder and Bumble Bee [my cycle] as tears swelled in my eyes and said "You've done it".
On regular rides I used to carry dates and needless to mention water. However, on 100km I carries a white bread jam sandwich (High GI and Low Fiber), a banana and Gatorade too.
The sudden introduction of so much physical activity had hurt me a little; I had been accumulating fluid on my feet, calves' n elbows and was experiencing discomfort during cycling. On 31st May I actually weighed a kilo more than where I had started!! But surprisingly I was far from disappointed because I was really feeling in control. I took 5 days off cycling then and within 10days of easing exertion, I found my weight had dipped by 2.2kg [3.2kg if I deduct the apparently added weight of 1kg]. I have been cycling 35-37 km thrice a week; today it's been 15 days' post May 31st and I've come down to 73kg from 77 with 75% of the swelling gone. Having tasted the "happiness shot", I have started to turn towards supplementing exercise with proper diet, which even otherwise I was required to do due to cirrhosis. I start with lemon – ginger juice with a pinch of turmeric and don't have anything on it for at least 30mins. Regular tea follows; I didn't cut down on the sugar in tea but reduced the quantity of tea [I have only 1 tea in the entire day n love it with its sweetness!!]. Breakfast is salted lassi and a small cup of poha/upma or something similar; thereafter the entire day has an easy principle to follow: reduced portion size, eating a small snack/meal every two hrs, reducing carbs n up proteins, finishing dinner early n drinking plenty of water. Hence a typical 2 rotis- dal- veg –meal became 1 roti, sprout salad, curd and water packed veg stir fried lightly. The sweet tooth is permitted dried figs/raisins. I cannot do without mangoes during this season and an occasional gol-gappa outing is mandatory!! Most importantly, the food had to be tasty, known tastes I've been brought up with and home cooked so that my mind n body enjoyed it; it's wrong to put your body on a denial mode as you always eat with your mind. So, love what you are eating n doing.
The results are just beginning to roll out…I'm very upbeat about what I expect to see in the next 6 months to follow. I've planned to take up higher challenges on the physical activity front and deviating less on the diet front till it becomes a normal routine for me.
Please remember that 'It's never too late' situation won't be forever. Start as early as you can. Especially if u is a homemaker entering your forties, don't allow yourself to be written off by subscribing to gossip and cribbing groups. Hook on to people who are brimming with positivity and desire to constantly learn n grow. Learn from children; their energy and openness to learning, experimenting is very contagious. Have a talk with yourself, plan, join a group and celebrate every small step towards your goal and keep learning new things. Get fit –Mentally and Physically—and trust me, life will be beautiful.