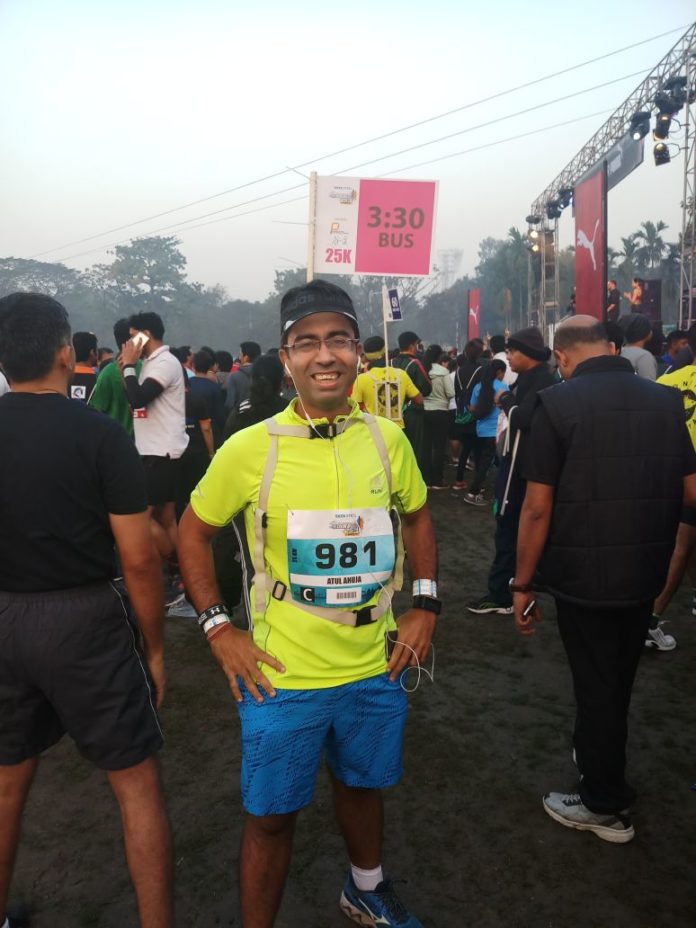 If this new year you have made a resolution to change something around you and within you then don't let it die a silent death as it is not the resolution that defines the year that is ahead of you but the passion that runs the world and if we think that being a banker is boring then please add some spice in your life the way this banker did.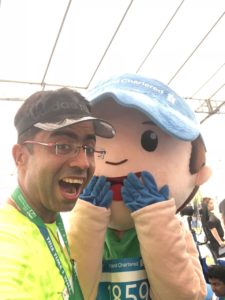 A banker with a multinational Banking corporation which is a name to recon in the Asian peninsula this guy has defied the conventional banker image and found a place on the running circuit earning the rightful respect that he deserves. Presenting Atul Ahuja the pride of Unirunner group which is formed by the residents of the Uniworld township in New Town area of Kolkata,Although he is a banker and is always pressed for time but defying the conventional wisdom,he is a very enthusiastic runner who has been running for a year now actively . The beauty of his running in how he has improvised on his running and ran 3 half marathons in November and got his personal best with each run.Having said that he had also ran SCB Singapore 2017 which is supposed to be the toughest in terms of humidity and elevation and coming back to the Indian Peninsula he has run Hyderabad Marathon, ADHM, Vizag ,BSF, Jaipur run.His portfolio consists of 7 Half Marathon with his best timing of 1 hr 54 min at ADHM in Delhi this November 2017.If you have seen him very recently then let me appraise that he used to weigh around 104 kgs just 2 years back and now has come down to weigh around 71 kg which should be an inspiring new year resolution for those who want to start their fitness journey this fall .
So if you think this is all he does in his exhaustive complete week then don't be fooled as this highly motivated banker has been pushing a lot of fellow bankers to walk the fitness ramp.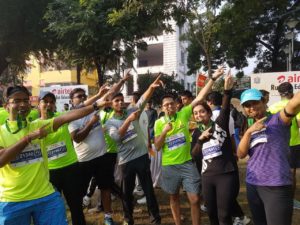 He is also a very active squash and tennis player and keeps representing his Employer the famed standard chartered bank at corporate challenges and sports meets with his strong will power and never die spirit he has been a great motivator which has shaped a running group at his Bank with around 50 active members of which 30 of them registered and Ran together in TSK 25 this is really a remarkable job.Even after shouldering so much of responsibilities at the work and home front he still rises everyday early morning and runs 3 days a week combined with round of tennis for another 3 days.His discipline and hard work have trasformed him from Fat to Fab in no time and he was also selected as a Pacer at the recently concluded TSK25 in kolkata.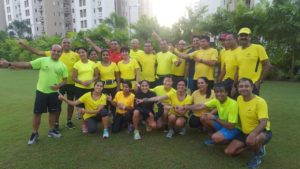 He did a commendable job at TSK25 as a pacer and i wish good luck for the journey which has just started and he shared his feeling as "Encouraging others has always been my passion as a leader both at office and on the running tracks.One of the prime reason I took up pacing for 3:30 bus although my personal best is 1:54 for 21 kms was to support my fellow runners who are attempting their first 25K to cross the finish line, and the dream came true in Tsk 25 2017 this year when I got my first opportunity as a pacer for 25 km . It was the best feeling I ever had since I started running 2 years back and this completes me as a runner".
The world is not enough for this runner who has grande plans for the year that has just started and we may soon see him running across the continents if not some other planet.