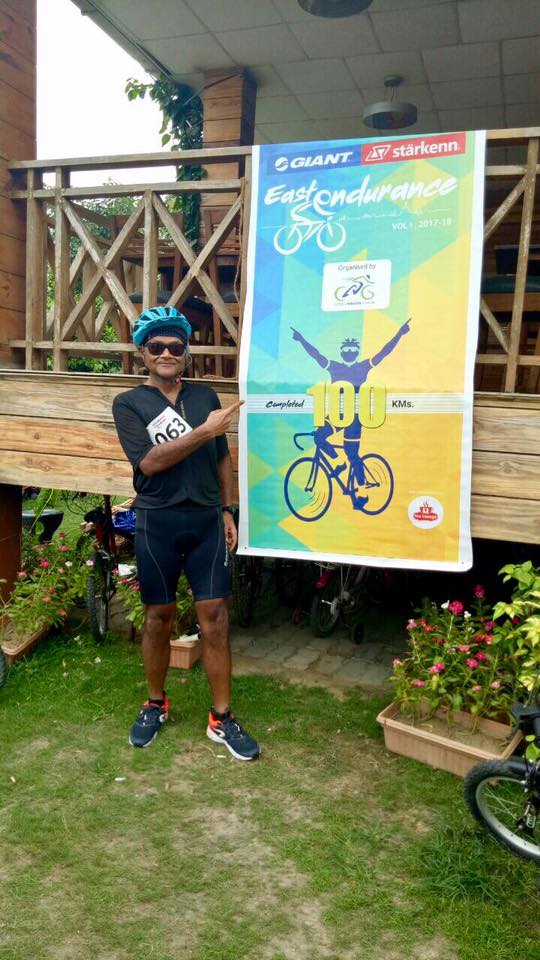 Early morning ownership of rejuvenated roads, fresh smoke at tea stalls, spirited bikes as opposed to cycles) and great friends, have been the most soulful takeaways of my first ever subscription to a cycling group – CNG(Cycle Network Grow). We share various stories of overcoming obstacles and one day, Ashish Bajaj, a person with a series of biking achievements to his credit, mentioned Sanjay Kumar Daga as a figure whose overcoming would certainly inspire many seemingly let down by life's unfair treatment. It is a privilege indeed to have met the man himself and to present his story.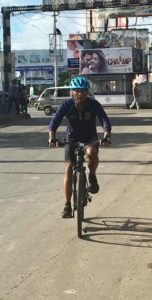 Sanjay, C.A. by profession, had an active lifestyle right from his college days, jogging to St. Xavier's College at 5.15 a.m. as a 17yr old. On the personal front, , he is married to his childhood sweetheart who he has known since class 7, and together they have a son, a consultant living in New York City.  When Sanjay was 47, he developed pain in the hip joints which grew excruciating. It was not diagnosed properly and when it finally was, it turned out to be a condition called AVN (Avascular Necrosis) of the hip joints, a condition in which the arteries supplying blood to the hip joint gets blocked resulting in the death of bone tissue. AVN is an irreversible condition and no reason could be identified in Sanjay's case. He was in the second stage of AVN and was suggested hip joint surgery with 30% to 35% chances of success and a certainty of bringing a complete halt to his active lifestyle. Sanjay refused, but he knew he had to have a better option. He finally agreed, at age 49, to a surgery wherein stem cells are injected into the joints to affect regeneration of new bone tissue. The 65% to 70% chances of success was the best that he could have and he underwent the surgery in Sept 2011. This was followed by a very long confinement to the bed and when he joined office in Nov, he recalls being lifted up  six stairs leading to his to his office building by help . It could not have been worse for a man who had been running since he was 17. As if alive with the memories, he wife Mamta recalls 'there came a person to help him learn to walk with crutches'. Apart from the psychological trauma, this long confinement had resulted in him losing the sense of balance during walking and he required intense physiotherapy sessions to restore it. Despite all these measures, he was confined to walking with crutches for six long years.
Then one day, he decided to hit back.
Sanjay  got back to the first activity after five years, swimming. It was a thirty-minute start in the pool and he came out feeling like his old self after a very long time. The journey had begun. He took up a three-pronged approach after doing considerable study. First, he decided to build up the strength of his left leg (the side which had been operated upon) as those muscles had weakened with time. Second, he planned a workout for his upper body and the core to enable it to support the weakened lower limbs and provide a strong overall support. Third, he decided to shed off weight which had skyrocketed to 108 kgs during the past five years due to severe physical limitations coupled with thyroid dysfunction and overeating due to a prolonged period of depression.
Sanjay started with a 3/4 km walk within his compound with crutches; this caused the pain to resurface many a times but he persevered. He supplemented the walks with gradual gymming and stationary cycling to strengthen his legs and upper body. He also swam almost 1.5 km non-stop, rendering him flexible and strong. All this while the pain would come as a reminder but he had decided he would not take a "No" for an answer.
The diet plan mainl consisted of boiled vegetables,brown rice khichdi with an overall calorie content of 1800 calories per day. Within one year, he lost 38 kgs!! His blood pressure had stabilised and had to stop the BP medication. The couple mentions,' friends and relatives started asking what was wrong …why was he loosing weight'. Infact he later on decided to put on 5 kgs and maintain his body weight at 75 kgs!
Then came the masterstroke. He decided to start cycling and in May 2017, he bought his first cycle, a Hero fixie. The couple chuckled together over the choice of cycle, with Mamta and Sanjay thinking of not wasting much money over it. Sanjay asked the shopkeeper the most economical stuff he could buy and came home with his new cycle costing Rs 4500. In that month, he covered 1500 km over it and sold it on OLX (mentions with a 17 years old boy's laugh) to buy his first geared cycle, a GIANT Hybrid. This clearly was not only a purchase; it was a moment when one knows he is designing his life his way. Sanjay is all zest as he mentions buying helmet and cycling gears and first time the chain came off beside a nariyal paani wala who fixed it. And symbolic as it might appear, he put the crutches in his car's boot space, cautious he might need them somewhere…Friends and well-wishers who just some months back had been "sympathising" ( Sanjay clearly abhors that feeling), were now in awe of him.
Sanjay had joined a cycling group, Pulsing Pedals in May 2017 and with the greater cycling community of Kolkata in a symbiotic relationship, he continues to raise his benchmark with every ride, riding most days a week. He has done five century rides till now; the First was in Bangalore in June 2017, where out of group of 25 cyclists, he was amongst the top 10 to finish the 100K. He did 120K just short of 5 km climb to Horsley Hills, a hill station, to the finish due to a puncture. The fifth 100k is with an average of 23.4km/hr.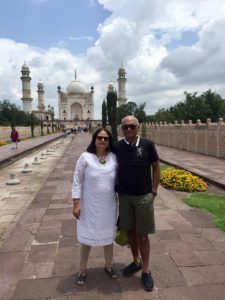 Mamta understandably remains on the edge of the events he does; she has lived those difficult six years but Sanjay is ready to box down everything in his way. He has an impressive bucket list, which is just growing – tennis, motor biking, running, triathlon, biking in New York City when he visits his son, buying a road bike….and more. He even converts waiting for boarding a flight into a 4 km walk!!
In his book, the Biology of Belief, Bruce H Lipton a renowned cell biologist demonstrates the biochemical effects of brains functioning and how all the cells of your body are affected by your thoughts. Sanjay just proved the above when his mind took over matter; liberating him from AVN to the cyclist and an inspiration that he is today.
We wish Sanjay All the Best! Keep Inspiring !