"Only those who will risk going too far can possibly find out
how far one can go." – T.S. Eliot
Although T.S. Eliot was likely not thinking of running when he wrote these words, he couldn't have better captured the essence of why ultra runners do what they do. We're all searching for something within ourselves; most of us want to know just how deep our well is. 
It's been almost 2 weeks now since I ran the 94th edition of the Comrades Marathon – the world's largest ultra-marathon covering 87 km between the South African cities of Durban and Pietermaritzburg – and now that the legs and mind have recovered, it's a good time to dwell on the experience. The memories of pain are giving way to the innumerable highs this race equips one with. While 2 weeks ago I swore never to do the race again, it's starting to sink in that it was well worth it. Needless to say, this is how it happens every year.  
History and Tradition
The Comrades Marathon is the world's oldest, and largest ultra-marathon race. It has even been dubbed as the "Ultimate Human Race". Ellie Greenwood, the famous British female ultra runner and first British female Comrades winner said, "It is billed as 'The Ultimate Human Race' a tagline which seems little more than a slick marketing slogan, until you complete the 89 Km journey on foot along with 19,000 runners and realise that this 90-year-old event really does live up to the hype."
It is run over a distance of approximately 89 kms between the coastal city of Durban, and the capital of the Kwazulu-Natal Province of South Africa, Pietermaritzburg. The direction of the race alternates each year between the 'up' run starting from Durban and the 'down' run starting from Pietermaritzburg. The race has to be completed within a cut-off timing of 12 hours. 
The first Comrades Marathon was run on Empire Day 24 May 1921, when 34 runners lined up before the Pietermaritzburg City Hall to commence a race to Durban to commemorate the spirit and camaraderie of the soldiers who fought in the Great War. It owes its origins to the tireless efforts of founder Vic Clapham (war veteran & SA Railways engine driver) whose vision was to create a living memorial in the spirit of his "comrades" who suffered so greatly in the war. The constitution of the race states that one of its primary aims is to celebrate mankind's spirit over adversity.

Comrades is a HUGE deal in South Africa, perhaps the biggest sporting event of the year.  People will watch all 12 hours of the race on television. There's as much support for the runners struggling to keep on target for the very strict 12 hours cut off as there is for the elites at the front. Many South Africans have run it at some point in their lives, often several times. This race has produced many legends and heroes in South Africa, the greatest of them being Bruce Fordyce. He is best known for having won the Comrades a record nine times, of which eight wins were consecutive from 1981 to 1988. It was an honour for me to meet the legend at TMM 2019.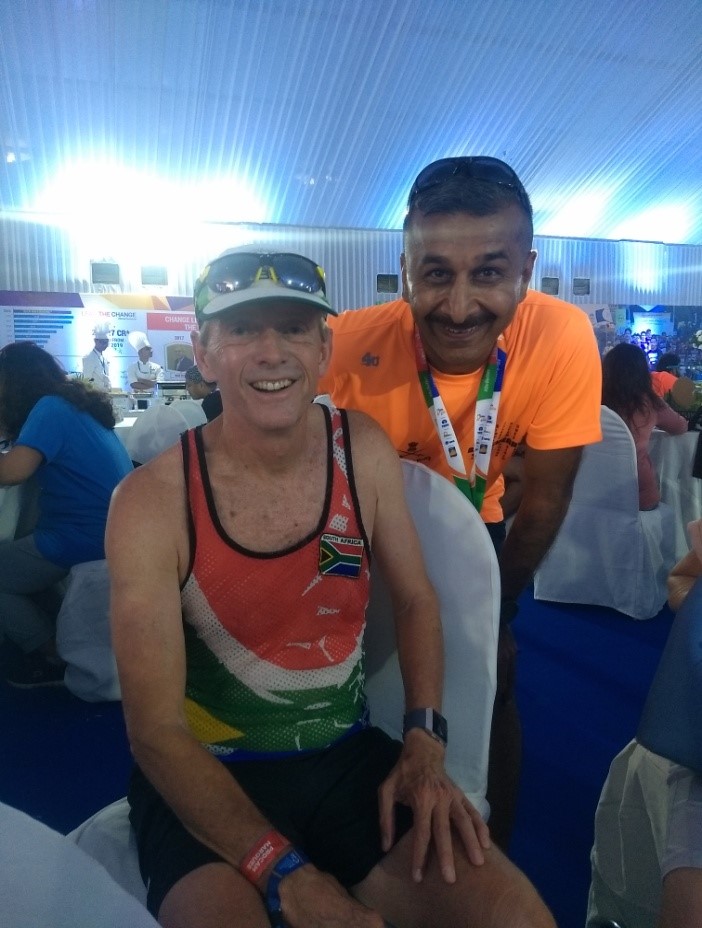 With Bruce Fordyce, the Beast who ruled Comrades
Why Comrades? 
It can be difficult to understand why anyone chooses to run the Comrades, and do not mind coming back year after year, as many do. However, for the most part, I'm certain that it is the intensity of the highs and lows that the race provides which becomes addictive. One can probably relate to the highs and lows of a half or full marathon. Comrades is that on steroids.
Comrades is bigger and better. If you have a running bucket list – put this race on it.  Somehow, someway, get to South Africa and run it. It's long, it's hot, it's hard, and there would be times it would suck; but from the singing of Shosholoza (an Nguni song that was sung by the mixed tribes of miners mining gold in South Africa and is so popular that it is often referred to as South Africa's second national anthem) at the start to the finish to all the miles, support and camaraderie in between; it's an amazing experience! 
The stage for what is to come is set on the start line, this year Durban City Hall. In the minutes leading up to the start gun, about 18,000 South African starters sang the national anthem and then Shosholoza, before falling silent to the stirring notes of Chariots of Fire, contemplating what lies ahead. This is how Comrades starts. It is an intense build up and few dry eyes remain when it is over.
The Comrades is several orders of magnitude more awesome than any road race. First of all, the challenge of running Comrades is simply unparalleled; it is, physically and mentally. Second, the support along the course is incredible; not only is it consistent for 87 Km, but the race takes you through all kinds of walks of life, showing the many, many colours of the Rainbow Nation. Third, the camaraderie among fellow runners is like nothing I have ever seen.
From the start of the race through the gruelling last stretches of the race, where fellow runners were encouraging each other on over the tough parts of the course and the hills, the Comrades brings everyone together—across South Africa and across the world—like no sporting event.
Amit Sheth (internationally acclaimed author of "Dare to Run") was the first Indian to run Comrades in 2009 and since then he has ignited the passion of Comrades in hundreds of Indians. He is the proud recipient of Comrades Spirit Award and is Comrades International Brand Ambassador from India. There is no other Indian who can explain "Why Comrades" better than him https://wellthyfit.com/running-comrades-ultra-marathon-amit-sheth/
Comrades for Comrades.
In addition to all the reasons as given above, I had a very special reason to attempt the Comrades. Keeping in line with the spirit of Comrades Marathon, I wanted to run it in memory of my Braveheart Comrades of 79 NDA / 89 Regular IMA Courses. During our course's Silver Jubilee celebration in 2016, 30 of us ran Airtel Delhi Half Marathon (ADHM) together in their memory, a gesture appreciated by many. It also led to the forming of a small running community of our course called Jubilee Runners. Many amongst us were aware of Comrades Marathon who prompted and encouraged me to attempt it, a proposal which was supported wholeheartedly by other course mates too. I couldn't plan it in the following years of 2017-18 due to various commitments. Moreover, I had never attempted an Ultra Marathon before. In 2018, I ran my first Ultra, 74 Km Garhwal Run from Dehradun to Dhanaulti thereby qualifying for 111 Km category of La Ultra. 12 hours Stadium Run in Mumbai in Jun 18 was yet another experience of ultra running. After doing La Ultra in Aug 18 in Ladakh, I finally decided to go for Comrades.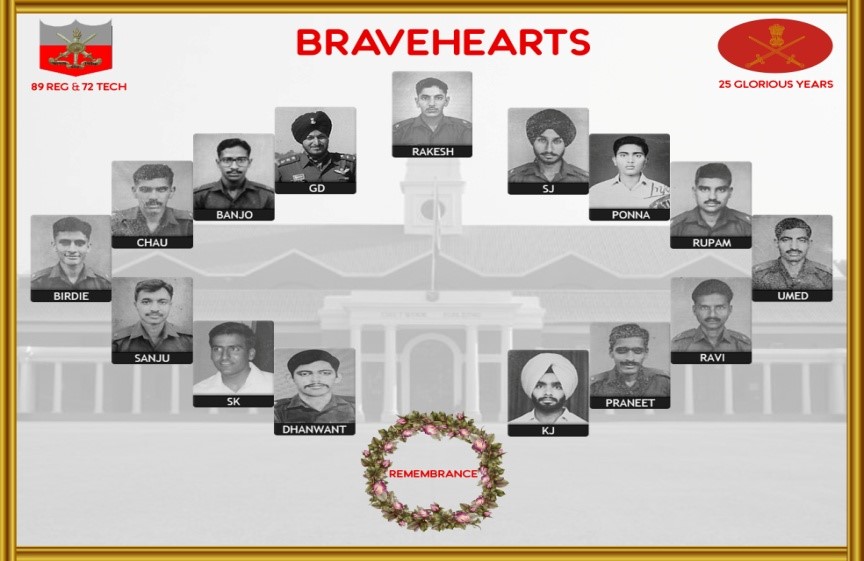 Braveheart Comrades…..always in memories
Training
The registration for Comrades began officially in Oct 19 and as many as 12000 runners registered on Day 1 itself. I too along with my partners Sandy Chhikkara and Inderjeet aka Coolest Jeet registered on Day 1 itself. Jeet, unfortunately, had to drop later due to health issues. Next step was to attempt a Qualifying Race for confirmation of registration and allotment of seeding pen based on timing. I ran TMM in Jan 19 and was awarded a 'D' seeding pen. Like most big races, Comrades has a seeded start. But unlike other big races – Comrades is timed only on gun time – so the starting position is even more important.  
One cannot wake up and decide to run the Comrades. One can't even wake up three months before Comrades and decide to run it, assuming one wants to do well. The training is cumulative, and consistency is important. I couldn't think of anyone else but Anjali Saraogi, the fastest Indian female at Comrades, for guidance. She ran Comrades Up Run in 2017 in 8 hours 38 minutes and got the Bill Rowan Medal. She advised me to follow a training programme of Comrades' official coach, Lindsey Parry which I did. His monthwise training plans are available on official website of Comrades. January is the right time to start training in right earnest with March and April being peak months. Most importantly, strength training and hill running need to be integral parts of the training. But, beyond the obvious physiological benefits of consistent training, you can't control the conditions you will get on race day.
I'd joined the Whatsapp Group of Indian Comrades Runners, which provided valuable advice.  The group had created unique race shirts, which were very noticeable at Expo and during the run.  
 I tried to be consistent with my training and always went for my training runs. Since I am located in a hilly area, it helped me a great deal. My training schedule, however, was affected in between as I had to plan, prepare and execute a Commemoration Ultra Run of 777 km from Jabalpur to Secunderabad in March / April 19 wherein our team had to cover the distance in 11 days.  Although it helped to build adequate endurance base, but it affected my speed training. Moreover, consecutive running for 11 days and its subsequent recovery period had a negative impact on my training schedule. But no regrets, the Commemoration Run was as important as Comrades.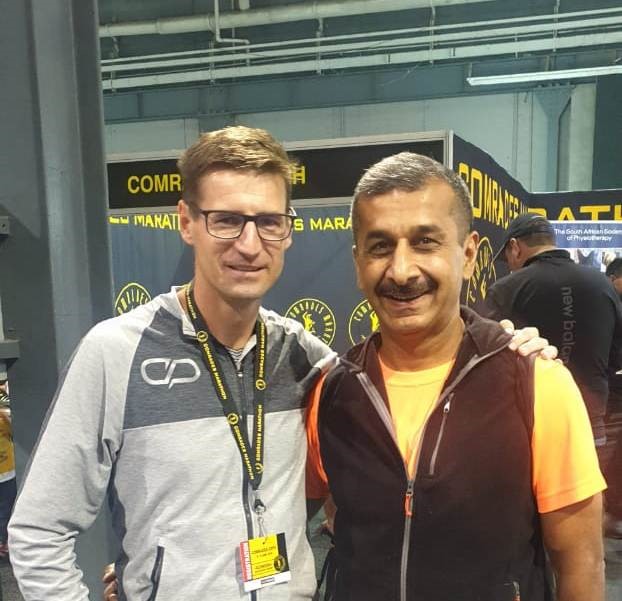 With Coach Parry at Comrades Expo in Durban
Durban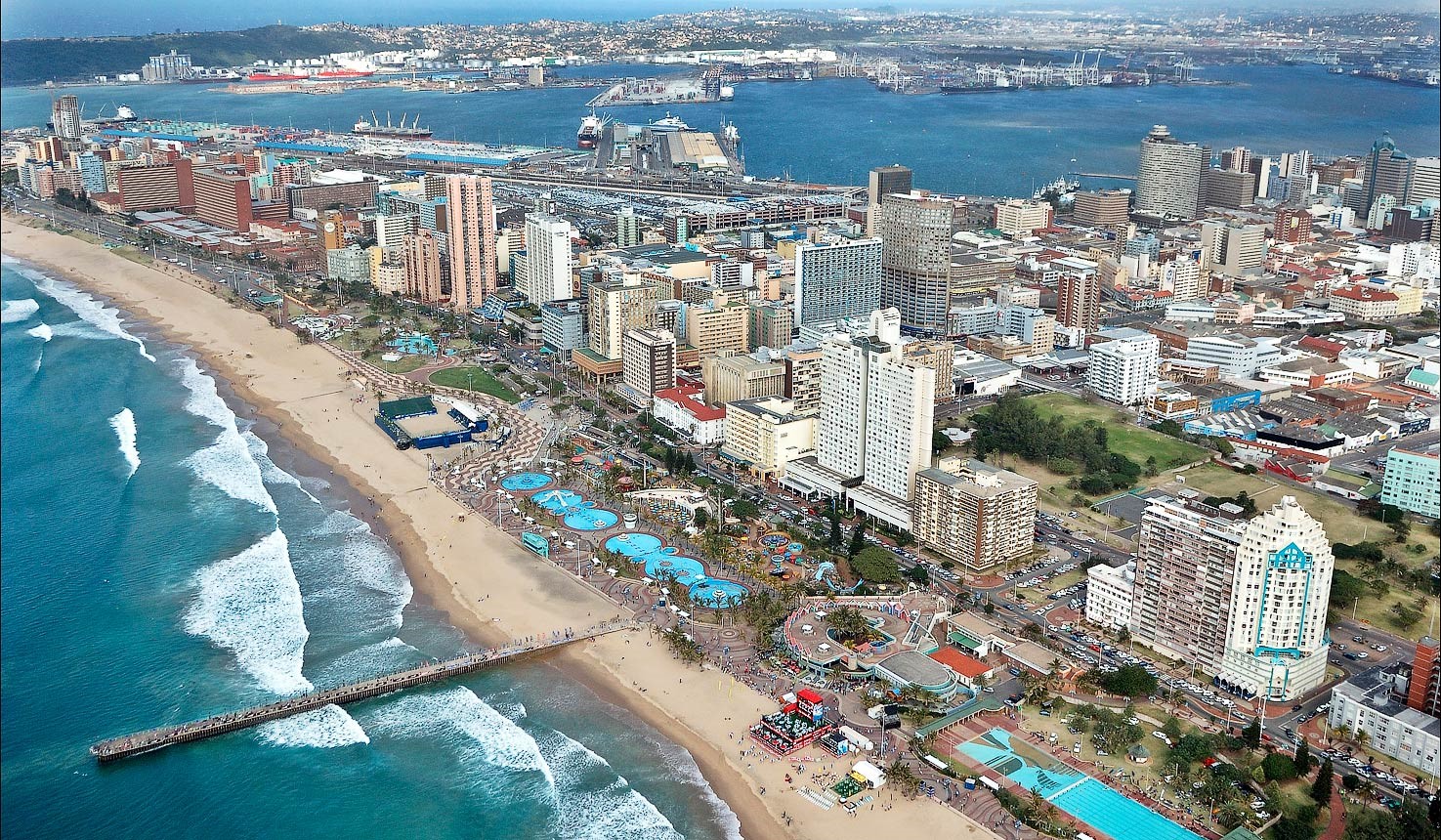 I landed in Durban on the evening of 5 June 19 and was joined by Sandy Chhikkara, the next morning. Rahul Sharma from Ahmedabad was the third occupant of our room. Rahul runs 'Cyruns', a fitness group. He is an expert in the field of fitness and sports nutrition and has run a few famous international marathons. Our hotel was located on the beachfront which remained swarmed with runners, cyclists and of course many Comrades runners. The weather initially remained cloudy with intermittent drizzle till Saturday but it opened up on the race day. We too went out for a small jog and met many Comrades runners from India and other countries. With the main event just 2 days away, we avoided venturing out for any sightseeing.
Expo
The Expo started on 6 June at the Durban Exhibition Centre. It was huge and had all possible stalls of runners' kits, supplements, hydration, memorabilia, etc. We headed to Expo on the first day itself, got ourselves registered, collected our bibs, championship chip, and goodies' bag and deposited our tog bag. I love the way Comrades handles their bibs. Firstly, you can tell a lot from the bib someone is running in. For example, the number in the bottom centre, that number tells you how many Comrades races the person has completed. The most interesting thing though is the colour of each runners bib, here's the breakdown: White bibs for runners from South Africa, Blue Bibs represent the international runners, Orange Bibs means the runner has completed one Comrades marathon and is going for back to back years, Yellow Bibs are the people to look for! They have completed 9 or 19 Comrades and are going for a milestone, and finally Green Bibs for an amazing bunch who have completed over 10 Comrades races!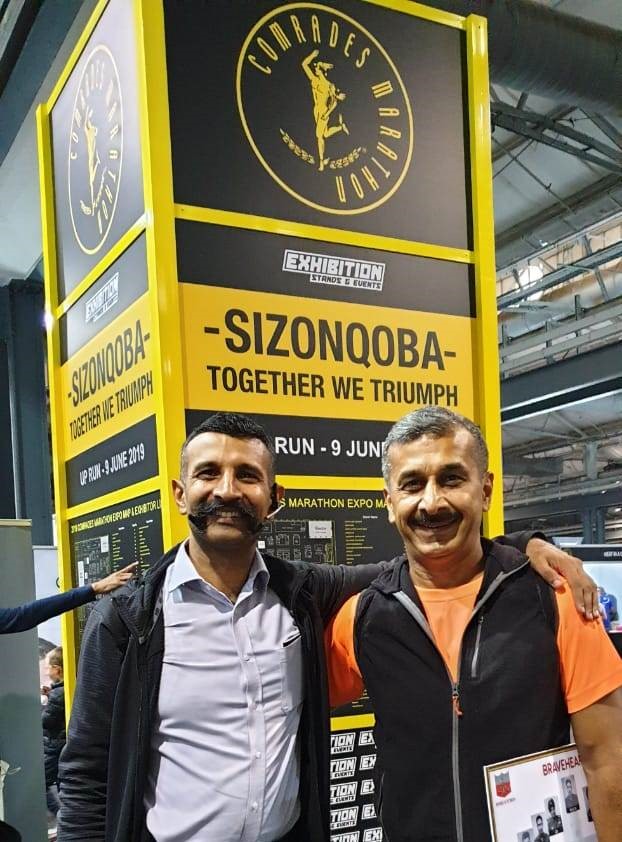 With Sandy at Expo. Official campaign slogan says it all…….
Race Morning

Comrades starts early – 5:30 am, and it's gun time.  It's suggested to be in your batch by 5 am. Work backward – breakfast, taking care of 'business' and getting to the start – our alarm went off at 2:15 am. Almost all hotels start serving breakfast from 3 am for Comrades runners. We left the hotel at 4.30 am and caught a taxi to the start.  Even at 4:45 am the batches were packed, with many people sitting down. Self, Sandy, Rahul and Sukanto Roy (Mumbai Runner) made our way into the 'D' batch and sat on the curb near the back and waited. Interestingly, Sukanto also ran the La Ultra alongwith me and Sandy in Aug 18. At 5:10 am they suddenly let down the barriers between other corrals and the runners start moving up.
With 10 minutes to go before the start, the singing started. First, the South African National Anthem and then the Shozaloza.  This was one of the parts of the whole Comrades 'experience' that I'd been looking forward to the most. The singing started, the crowd joined in. The final music was the Chariots of Fire theme.  We anxiously looked at the clock as it ticked close to 5:30 am. Then the cockerel sounded, or at least the recording of Max Trimborn, who in 1948 was so nervous at the start, that he cupped his hands and made the cockerel sound.  For years he was asked to do the same for future races, and now a recording of him is played.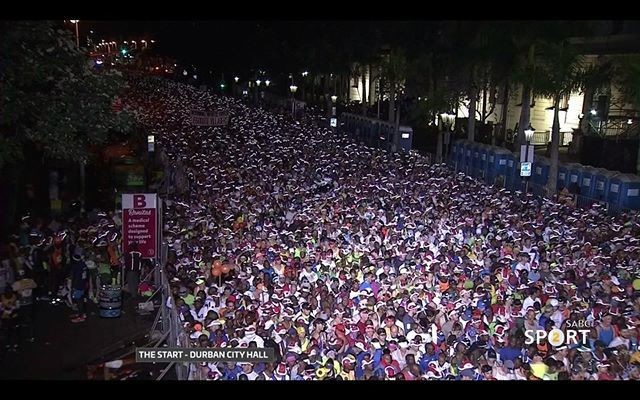 The Start
Then the gun. Comrades is gun time so I started my Garmin. My seed pen was D which was about 100 m back from the start line, although those first few yards were slow going. It took me nearly 4 minutes to cross the start line
The Race
Big Five. In Africa most westerners go on Safari looking for the 'Big 5'.  At Comrades – the big 5 are not what you're seeking out….the 'Big 5′ as they are affectionately known – are the 5 main hills – namely Cowies, Fields, Bothas, Inchanga and the famous Polly Shortts.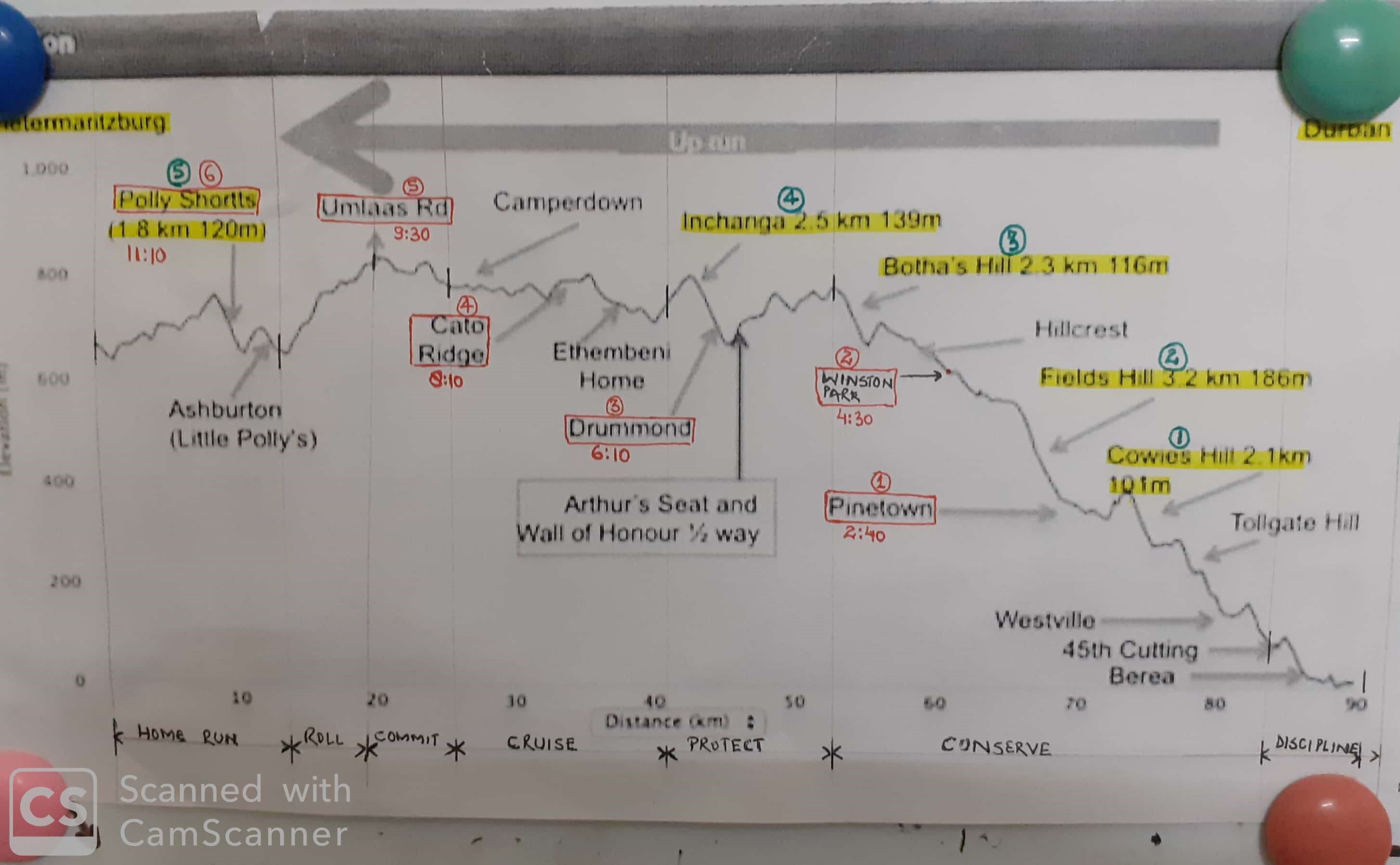 Part I
No Ultra Run can be run in one go, one has to break it into bits and pieces and then tackle each segment one by one. Likewise, the Comrades can be broken up into three sections. The first is the entire first half which, with three of the named Big Five climbs, and many unnamed climbs, is technically the hardest half. The mantras during this section are Discipline and Conservation. However, the high spirits from the start line buzz, a densely packed field, the thousands of supporters lining the suburban streets, and cheery conversations with random runners from all walks of life, all help to push one along. With enough training miles under the belt and some tactical walking on the big hills, half way should arrive with one in relatively high spirits. The first section can be further broken into 4 subparts namely Durban to Tollgate Bridge; Tollgate Bridge to Cowie's Hill; Pinetown to Fields Hill and Fields Hill, Kloof, and Botha's Hill.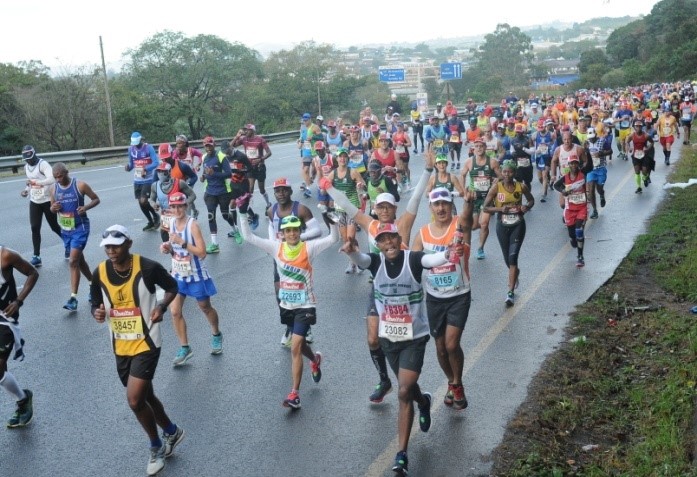 Cowies Hill, first of the Big 5
Part II
The second section is from halfway to the top of Polly Shorts Hill, 37 km and an altogether different beast from the first half. It is a stretch of fighting'Fatigue' and "Cramps'. It's amazing how quickly 'fresh' can turn into 'buggered' on the Big Five climb of Inchanga that rises straight up from the halfway line. After Inchanga, the gradient eases off somewhat, however having moved away from Durban's outer suburbs, the crowd support thins and one is left trudging along through the midday heat with the finish line still a distant prospect. Second section too needs to be tackled in 4 sub parts namely Drummond and Inchanga; Harrison Flats, Cato Ridge, and Camperdown; Camperdown to Umlaas and finally Little Polly's and Polly Shortts. The race splits for this section will show you that almostwithout fail it is here that the slowest kilometers are run for the entire field; I found it the toughest section by far. With 9 km to go, Polly Shorts, the last of the Big Fiveclimbs, eventually brings an end to the suffering one has faced since the halfway mark. It can be comfortably walked up, and from the top one gets the first view ofPietermaritzburg.
Part III
The 7 km of mostly downhill from the top of Polly Shorts to the finish line marks the third section of the Comrades. Adrenaline kicks in, cramping muscles and aching joints are forgotten, and the amazing supporters once again help to lift the spirits. Even the grass track finishing now seems easy. It's incredible what one's body is capable of.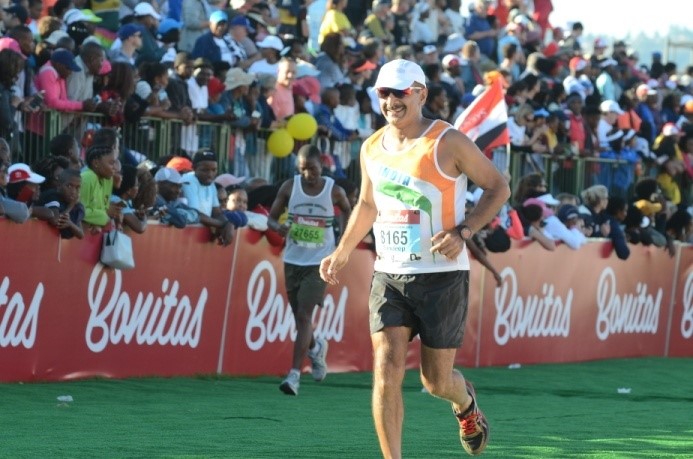 Close to finish line……all smiles
Post Race

I staggered into the International Runners Area and joined other Indian runners. I recovered my tog bag and got some food. And what an honour it was for the entire Indian runner's fraternity to welcome and greet Satish Gujran who became the first Indian to complete 10 Comrades consecutively and got Green Number.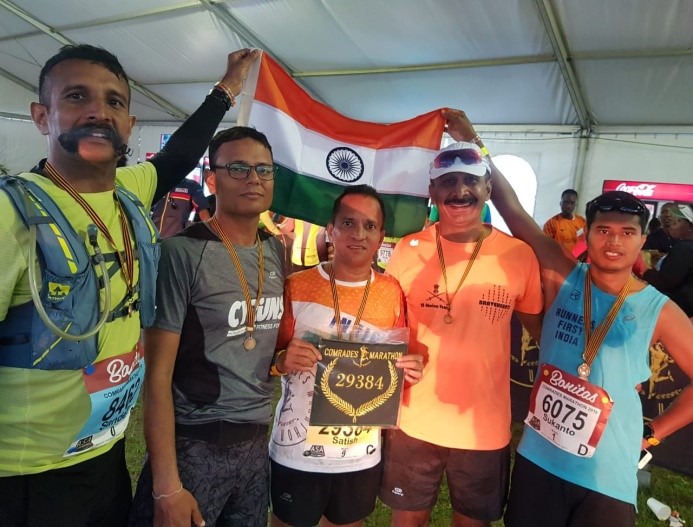 Satish Gujran earns his Green Number
Another aspect of Comrades is that nearly all the finishers wait until the end in the stadium – cheering in the people ahead of the 12 hour cut off and gun.  It was heartbreaking seeing people finish right after the gun – knowing what they'd gone through during the race and all the months preceding the race. Buses are lined up to take the runners back to Durban. By 8.30 pm we were back to our hotel. 
Reward
 There are 8 different medals awarded to the finishers, all based on gun time. Read more about them at https://www.comrades.com/medals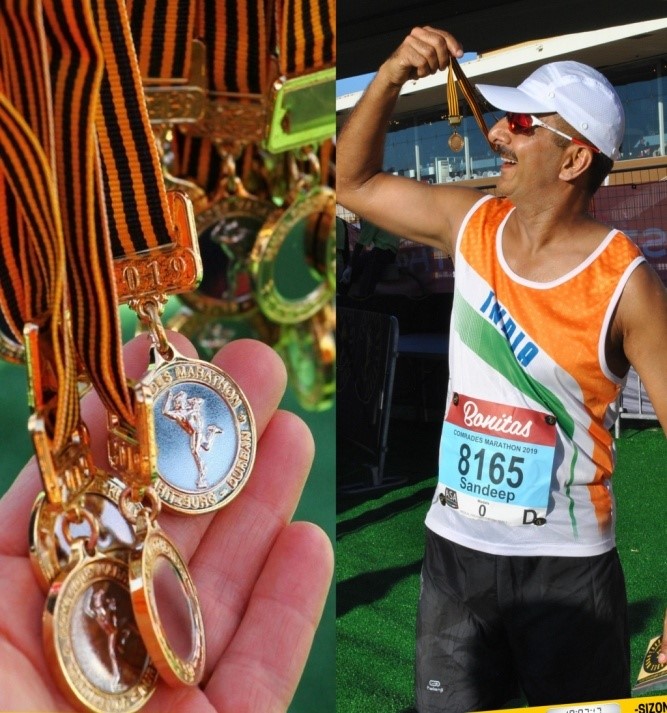 The medal that can't be bought
The medals at Comrades are likely the smallest you'll ever be given.  But that doesn't matter. The smallest in size, but the biggest in terms of memories and experience. Comrades offer a 'back-to-back' medal for running the Up and Down in consecutive years (doesn't matter which order you run them).  But you can only get it once – and it has to be the year after your first run.
Finish Line 
Comrades is as much a mental challenge as a physical one. There is no place for bravado, however, neither is there for meekness. Finishing requires restraint when one is feeling good, and the ability to motivate from within and push through the many low patches one goes through. It's as if you're steering between crash barriers, too far left or right marks danger. This year only 16,439 of the 19,103 starters crossed the finish line within the 12-hour cut off time. That's about 14% dropout rate. This is not an easy race
In this post, I wanted to jot down my memory of the race while it was still fresh in my mind. There are other things I plan to write about, such as my preparation, experience on the route, running strategy  but since those have been more…consistent over the past year, I will save those thoughts for a subsequent post.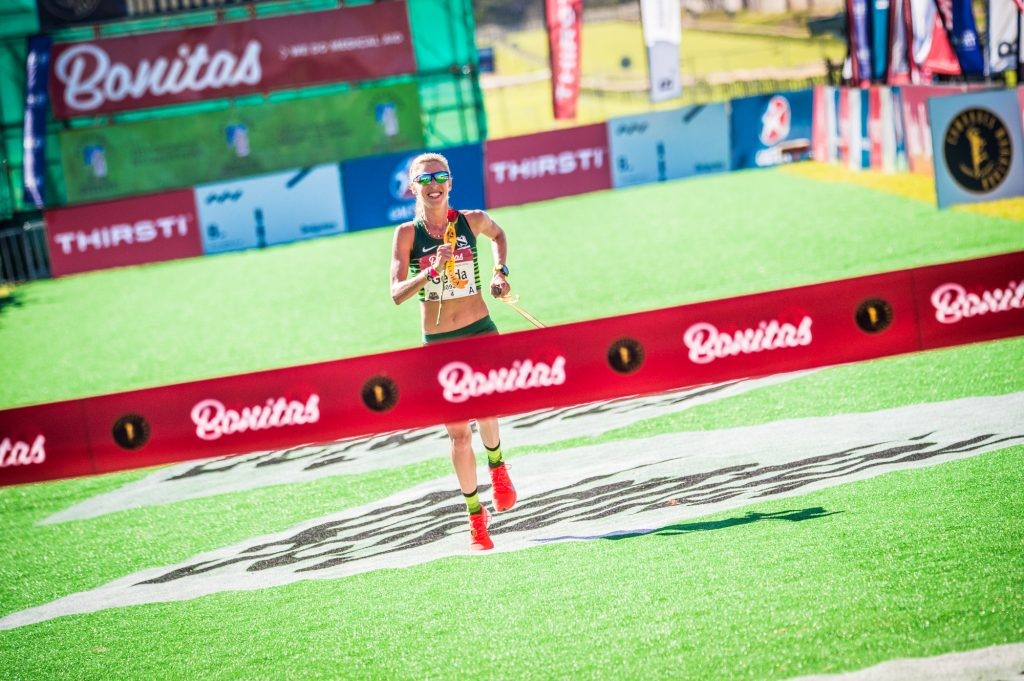 Gerda Steyn of South Africa became the first female to complete Comrades under 6 hours at 94th Comrades on 9 Jun 19
To finish is a triumph over human limits. It requires steadfast perseverance, and unstoppable determination to push beyond what you thought possible.