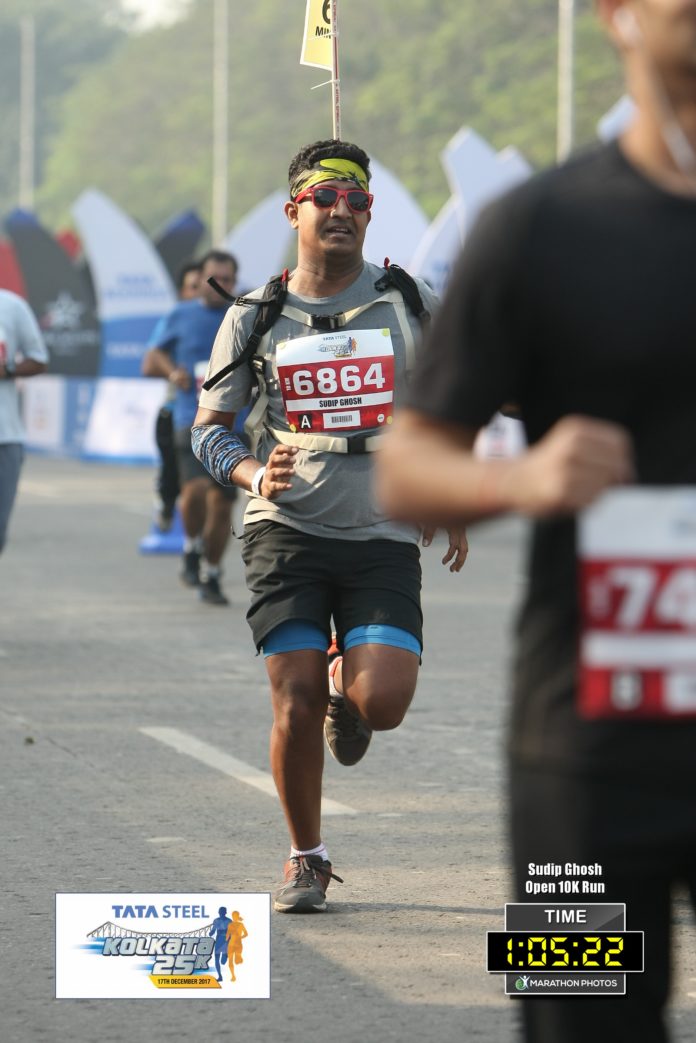 As a human being we have immense power guided by our beautiful mind and that is something that drives us to push our limits and achieve what we think impossible and this is the same science that drives the runners in us who go from one milestone to the other pushing the bar high above for us. As a runner we follow the elite runners and are guided by the pacers for the timing and distance we aspire for but to transform oneself from being a follower to be followed in like shifting from one orbit to the another,and we bring in the same story from one of the wonderful human being who runs like a panther on the running tracks to share his journey to glory .Please welcome the storyteller Sudip who gives you a glimpse f his mind as he Paced his way on the streets of beautiful,kolkata .
"I was getting ready for 25k in Kolkata's first international event TSK25,But then one afternoon I got a call and was offered to pace at the event. I was both happy and contemplating so I took some time and decided to pace. In my practice on the field and off it, I gathered some knowledge and it would be a privilege to spread the knowledge amongst new runners. To equip them with the beauty of running,there wouldn't have been any more magical opportunity than Pacing, and that too in the prestigious TSK25K.
Pacing is always difficult. You have to run at a lower pace than your own pace, you need to motivate others and need to finish "not one minute early, not one minute late". I took that challenge or responsibility.
It was another great experience interacting with new runners and resolving their various problems or answering their quaries. Even I got to learn a lot of new things.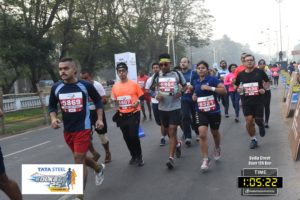 On the race day, It was a humbling experience. so many runners looking forward to you for a strong finish. And I too was eqipped with my Electronic Timer and Motivational Quote Board on my back and the Pacing Flag above me. Then we started to run, controlling pace, asking others to maintain pace and not to run fast pumped up by the initial excitement and later falling behind due to sudden carb burning. So I ensured my bus runs according to the well thought out pacing strategy I deviced. I kept on running backward to yell "you can do it", "great going" etc. Buring the vourse,many fall behind, I tried to pull them up, but in vein. But I cant stop as I have to chage ahead the rest in my bus who are going strong. At 7k mark I pushed 2 runners from my bus, Saumen and Manisha ahead, as I believed they are capable of sub 65min finish (both finished around 62+ mins). At about 400 mts from the finish line I saw many runners walking, they were not part of my bus, still I tried my level best to pump them up for a last sprint, many complied. And thet truly bought my Bus home on a winning note..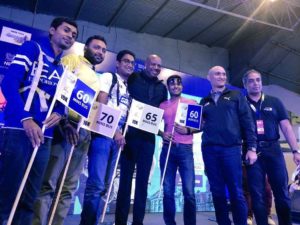 I am sure this is a beginning of a new inning which will unfold a lot more stories to inspire the aspiring lot of running enthusisats.