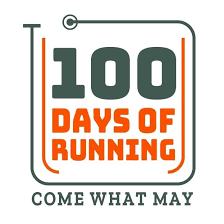 So its first day of this prestigious #100 days of running challenge and for sure you are very excited about it as this challenge has proved to be a game changer for many aspiring runners in the past and helped them create a habit of regular running and strength training that prepares you for the upcoming distance running season.
So here is my take to be ready for the carnival and finish it in style and smile.
1. Think Big,Start Small
So now you are getting ready for the carnival #100 days of running and you have to keep going for the next 100 days ,so start with a small distance which is greater or equal to the minimum 2 kms run/walk and slowly work on your endurance and fitness as if you haven't run for a while then your body needs to get in the groove.
2. Focus on Hydration:
Although many of us think that we don'y need to carry water for hydration if we are doing small distance, but in this scorching heat you should not take a chance and have some water before starting your short run and in between if you feel thirsty to get enough hydration for your body as you cannot afford to have a cramp and dehydration in between as you would not like to miss on your continuity.
3. Get your Clothes right with 2 pair of shoes and running attire handy.
you plan to run slow,fast,small or big distance ,it doesn't matter much but you should get your clothes right for running as you do for your major 10 k,HM and FM drill as wrong clothing would not only give you discomfort but also can cause rashes which might hamper your running and make you prone to infections due to the dust and sweat.
Also please get at least 2 pairs of your running attire so that you get ample time to wash and dry them for alternate day use to maintain hygiene and 2 pair of shoes since you cannot wash shoes and they absorb lot of sweat and also after a day of running the cushioning inside the shoes need so time to adjust back to its original position and help your performance go higher.
4. Listen to your Body
Surviving for #100 days of running is not an easy task and you need a lot of discipline and mental toughness to keep yourself going for the rest of the carnival, so you may have some days when you do not feel like to run, don't overstretch yourself and save it for the end of the carnival and go for a brisk walk to keep the continuity of clocking the distance everyday.
5. Stay true to yourself
There are thousands of runners participating and the leadership board would be on fire,and there is no reason why you should feel bad if someone is clocking more distance than you are as they may vary on their fitness,training and discipline front and you may need to learn from them and improve. Do not try to match up with someone else overstretching your body or by manipulating the data reported as it will not add miles to your training but would take away someone's hard work from them, so stay true to yourself with the sportsmen spirit and enjoy the fitness carnival that gets you ready for a healthy lifestyle.
PhotoCredit:100daysofrunning.in