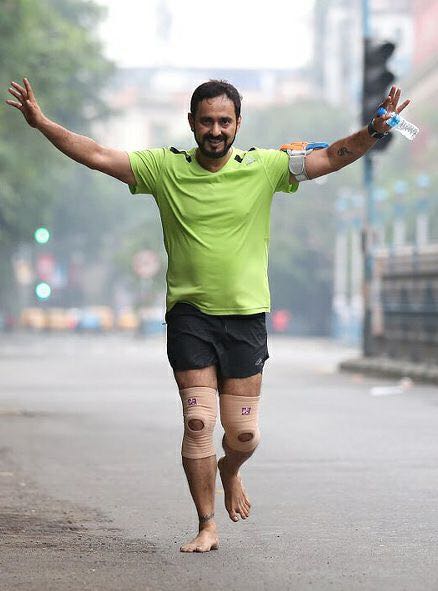 When i asked someone what is life all about,pat came the answer that life is all about hope that keeps us going day after day month after month as we move from one challenge to another to overcome our fear with a hope to become better and better with every challenge thrown up to your face,and it takes a gladiator to embrace a bigger challenge by yourself and that what makes you a saint or baba as we refer to.
The person i am introducing today is one of the most humble ever smiling baba who is not only inspiring a lot of runners but also throwing a challenge to the conventional running techniques ,he is the barefoot runner "The Barefoot Baba" of kolkata running circuit my beloved "Sandip Da" Aka "Sandip Mojumder" .
Having started running almost two season back as a regular runner wearing shoes, He gave it all up this season to run barefoot at the 10k run at Bhubaneswar in April 2017 and embarked on a new Journey seldom dared by even seasoned runners and there was no turning back with trail following across the cities measuring every inch of the roads,hills,cities but this was not as easy as it seems.
When he started off running barefoot maintaining his pace to map up every inch of the surface that comes his way ,he was considered a slow runner as we understand that running in the comfort of the shoes to moving onto a different dimension of running barefoot will obviously make you a bit slower since you do not want to get injured with your aggressive style as well as your feet needs to get accustomed to the new feel on the skin,these remarks and comments are felt more harshly on the skin than the rough roads and most of the runners who start running barefoot either drop out of the race due to injury or listening to people who discourage them giving wrong information or examples of people who get hurt in the process but these things did not deter him to keep going what he has embarked to achieve.
My first run with him was the Hyderabad Marathon where we did half marathon being my first and while i got a cramp after i was almost 10k down he said comeon we have done the tough part of the run and what lies ahead is the easy half to be completed,thus i followed him to the finishing line thinking when he can do the toughest city marathon barefoot why can't i complete it with my shoes on and my first half marathon was done easy which shows the spirit of the barefoot baba with the charismatic smile which ceases all your cramps and pain.Apart from the Hyderabad Marathon he has claimed the tracks of Amritsar Marathon,Guwahati and last week i was privileged to run with him side by side at the Delhi half marathon where he even parted with energy snacks,dates that he was carrying with him. This is a rare gesture to see someone who helps you before claiming help for himself and it is one of the qualities that makes a man above us all , a saint , a barefoot runner a great human angel.
While we at scroogeuncle are trying to decode the formula that makes this man stand apart in the crowd of running sensations, He has probably done and dusted another run at Airtel Run for education mapping yet another route with his ultran foot making a trail for another set of followers of " The Barefoot Baba"
With love and respect at your feet "The Barefoot Baba"-Scroogeuncle